No, I didn't join the sew-along, but I'm sure you've heard of it – Sew? I knit!. A fabulous idea conceived by Mari, Steph, and yaiAnn.
These girls have publicly declared that sewing is a perfectly acceptable art form even for knitters (the horror!), and they, along with one hundred other participants, have all committed to sewing a skirt by March 20th.
I was so tempted to join, but decided against it for several reasons, the main one being time, and not being certain that I can even make it to the fabric store by March 20th. The second reason is that while I can pretend to know how to use a sewing machine (You hear that? That's my sewing machine laughing at me for saying that out loud), I have never in my life even laid eyes on a sewing pattern. What would it contain? Would I be able to figure it out?
So I decided to buy a pattern first, and then decide if I could decipher it, and then decide if I could make it out to the fabric store by March 20th, and then decide if I could join the knitalong.
And not just any ol' pattern. You think I'd be satisfied with a simple A-line skirt made out of two pieces?!? Bwahahaha! Mwahahaha!
Yeah, right!
I'm not much of a skirt wearer. Period. But I do have two skirts that I absolutely love, and when I do wear a skirt, it's one of these two. So, if I were to sew any skirt at all, it would have to be similar in construction to one of these. Otherwise, I'd probably never wear it.
Not surprisingly, the two skirts are very similar to each other and fit me in a similar way. And you know what? You've seen them both ;). One I wore when I modeled the Picovoli, and the other, when I modeled the Jaywalker!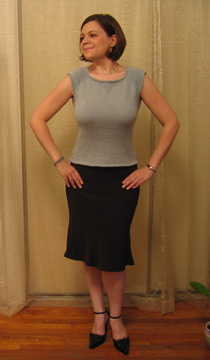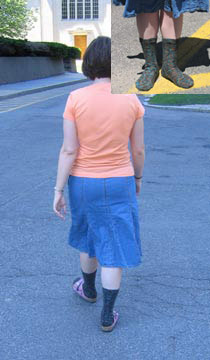 I looked through a few sewing pattern websites, and finally found Simplicity 5914, version B of which (on model) looks similar to my denim skirt (the black one tapers in more right before the knees).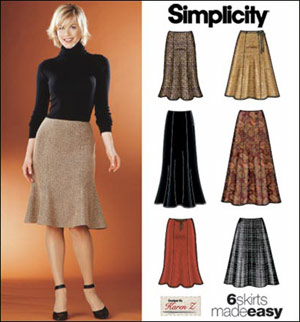 I bought it. I received it in the mail. I'd like to let you know that the whole thing came in a most precious little envelope, with instructions and pattern stuffed inside – very cute.
It was time for stage 1 – will I or won't I be able to decipher the pattern?
Oh man, it was hysterical. I wish you were there with me. Do you know how many hours it took me to figure out that the skirt is constructed from 6 pieces?
Do you know how many hours it took me to figure out that the 45″ and 60″ throughout the instructions refer to the width of the bolt of fabric, not the length of the skirt? Do you know how many hours it took me to figure out that the patternmakers provide a diagram for laying out the pieces depending on whether you get the 45″ or 60″ type of fabric? 45″ or 60″. Because I was like, damn, how are there 12 pieces making up that skirt? I lay 6 this way on the fabric, and 6 this way, and what is going on?!?
Do you know how many hours it took me to figure out what "nap" means? Oh wait, I haven't figured it out. What is nap?!? And why do I have to make notches in the pieces even where there isn't a zipper? And is there a nifty way to transfer the pattern onto the fabric other than cutting it out and tracing it with chalk? Because what if one day I want to make a bigger size? And what the hell is stay-stitching?!?
You see – there is a damn good reason I didn't join the sew-along. Talk about skill level differences, some of those girls already finished their skirts and I'm still standing here in the corner, mumbling to myself about notches, popping anti-anxiety meds, and applying a second layer of anti-perspirant.
One good thing, though – there's a size provided in the pattern that will work for me. Not only are the finished dimensions very close to those of my black skirt, but the European sizes of the pattern and my skirt match. And that's encouraging.
As soon as I figure out those nagging questions, I will move to stage 2 – will I or won't I be able to make it the fabric store before March 20th? Buying online is unfortunately not an option this time, because I'm so terribly picky about the way fabric feels, you have no idea. Plus I also need thread, a matching zipper, hook and eye (I may have some, I need to check), fusable interfacing, and cotton twill tape… I'm blanking on that last bit… I don't even remember needing cotton twill tape from the pattern.
Sigh. I will never get to stage 2. Talk about clueless.
0
likes