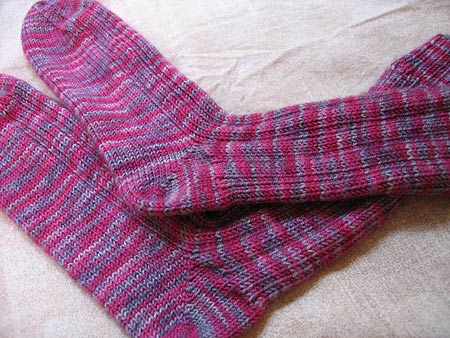 Pattern: Yarrow Ribbed Sock from Nancy Bush's Knitting Vintage Socks
.
Needles: set of 5 dpns, US 0, Susan Bates
. I would use US 1s next time, because although the yarn is thin, it doesn't compress and thin out during the knitting process to warrant 0s.
Yarn: truly rockin' Socks That Rock, light weight, Prove it all Night colorway. I used only two-thirds of a skein, so I have enough left over for some baby socks or something ;). I already gave the yarn a rave review, and I am absolutely sticking by it!
Modifications: I worked these socks over 54 stitches (the pattern is written for 66), subbed a short-row heel (check 'em out, Claudia – I didn't grip the needles like my life depended on it!), a Flat Toe (pg. 23 of KVS), and Double-start Cast-on with one strand around the thumb (pg. 7 of KotR).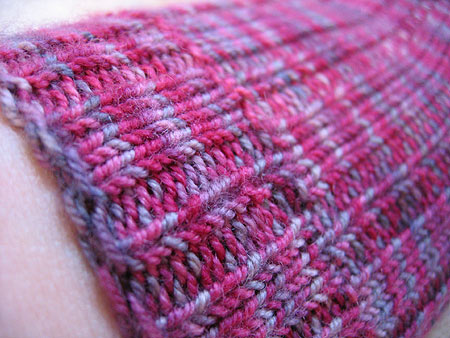 Thoughts: With such a highly variegated yarn, I knew not to select a fancy stitch pattern; only stockinette or the simplest of ribbing would do! This pattern worked – easy to knit but kept my interest, didn't pool, wonderfully showed off the yarn's crispness. Knitting with STR was a fabulous experience (thanks, Cara!), one I hope to repeat some day. I found that it hurt my left hand a bit, right at the base of the thumb, which isn't surprising considering how firm (yet soft!) the yarn is.
This stuff really does rock, but I think Lorna's Laces Shepherd Sock is still my absolute favorite. I mulled over whether I want to say anything, but I think I really do – one of the main reasons STR cannot be my favorite right now is… this whole hunting down colorways on people's blogs, then calling to find out what's available is a huge turn-off for me. There are way too many wonderful yarn companies out there and I have way too little free time to play along.
So, I love this project, it worked out well and basically took only two days. Now, will the recipient love it? 😉
0
likes