…but I definitely like more than one project on my needles at any given time. Typically between two and four, I'd say. More, I get a little antsy.
The needles on my Azalea scarf are driving me bonkers! For starters, they do not have the best joins (I believe they are Susan Bates Silvalume
). On top of that, I'm knitting pretty tightly on this project, I think because the yarn is so thin and wants to be on even smaller needles. So, stitches which hug the needle plus wonky joins – recipe for frustration. But then (!), to top it all off, the shawl is still too small to fit comfortably on one circular, so I've got it on two circs, which is twice as terrible – twice as many wonky joins to deal with, and the dangling, clinking ends make me want to strangle myself.
However, look! Pretty!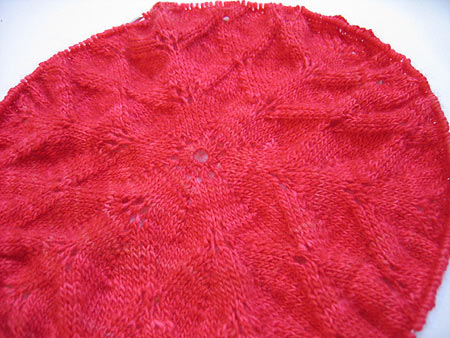 I ordered some INOX circs (the gray aluminum kind) to lessen my frustrations, but my skepticism is running high. The US 1s are marked 2.25 mm, which is what I want, but I just have the strongest suspicion that they're actually 2.5 mm, which would make them incompatible with this project. I'll just wait and see, good thing I have calipers.
In the meantime I've started something else! A pair of socks using Socks That Rock which January One Cara generously gave me last month. It sat in my stashette for a little bit, and I finally got a chance to play with it when Azalea frustration hit.
Now, I haven't been knitting for that long, and I certainly don't claim to have seen it all, but I try to keep on top of what's available in terms of sock yarn because I do knit a lot of socks. It's pretty darn hard to knock my socks off with a new sock yarn (hehe), you know what I mean?
This. stuff. is. incredible!!! The first thing I noticed is how solid it is – you take the strand, squeeze it between your fingers, and nothing happens! It remains solid and round, like a piece of rope. I think the tight spin will produce a pair of socks that will wear exceptionally well. Also, the stitch definition is out of this world: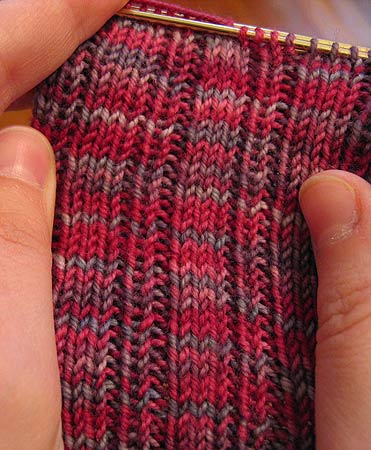 In my experience only cotton has such clearly defined knits and purls – what other wool is this tightly spun? I am absolutely drooling over the possibility of knitting cables with this yarn (a solidly-colored skein, of course).
Although the yarn itself is most impressive to me, the dyeing is pretty remarkable, too! This particular colorway, Prove it all Night, has short segments of raspberries and grays, about 6″ long. Although the pattern (another one from Nancy Bush) is mindless and I could totally take my eyes off my knitting, I don't. I just keep watching each stitch, seeing the color of the fabric develop, in amazement that it's not pooling at all.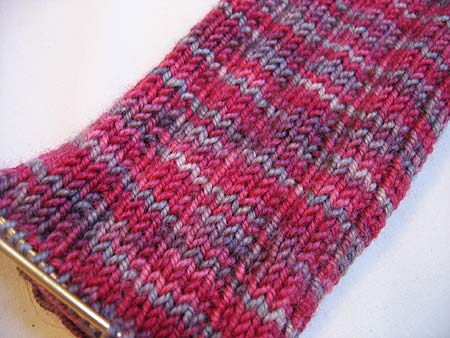 Yeah, I get it. I get why so many people are into this yarn. Gah! I want more! Anyone know where I can see all the 250 colorways?
0
likes