Well, it was an emergency situation. Later I called my mom, and double-checked – is dad wearing his wool socks against his bare skin? Or does he wear a cotton pair underneath, which get washed once in a while?
Nope, all barefoot, every night, same pair of socks, and he doesn't let my mom wash them. Ever. Damn.
I felt a little bit guilty – here I am, knitting all these socks for my grandma, and have only mustered one pair for my dad! In my defense, until this weekend he violently objected to any suggestion of a second pair. You should have seen the look on his face when I showed him the sock-in-progress back in the beginning of January – it was as though I was suggesting he prance around in rotten cantaloupe halves!
Fine, dad, we can play games. In this case, your stinky socks won and you were forced to reveal your cards – you do want another pair. And I'm happy to pull out all stops and make it happen quickly ;).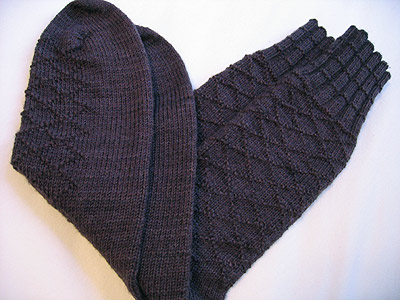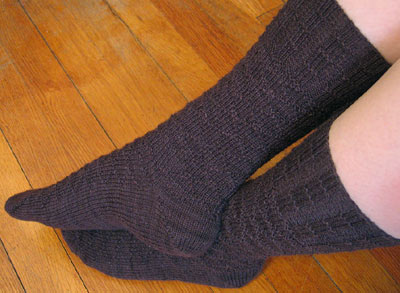 Pattern: Gentleman's Sock with Lozenge Pattern from Nancy Bush's Knitting Vintage Socks
.
Yarn: Lorna's Laces Shepherd Sock in charcoal (16ns), 2 skeins.
Needles: set of 5 Inox dpns, US 0 (2 mm).
Modifications: I know it sounds small, but I worked these socks over 60 sts, with the ribbed cuff being worked over 72 sts. Judging by how they fit on my feet, these should work well for my dad. I also subbed short-row heels and toes.
Some thoughts: This is the fifth pair of Nancy Bush socks that I've knit, and I know it's not the last. Even patterns for more simple designs like these socks are well thought out – they are as easy to follow as they are to modify. Knitting with black yarn is very challenging – I have good eyesight, but it was still so hard to see the stitches. I found that knitting with my Ott-lite directly over the black fabric helped. And to think that the first lace project I tried (unsuccessfully) was using black fingering-weight yarn!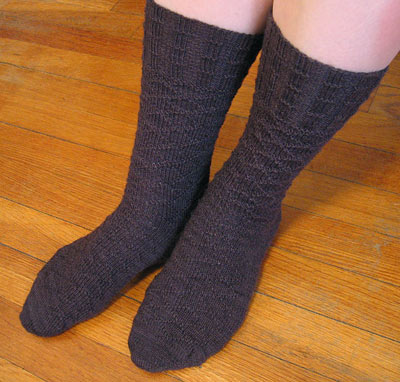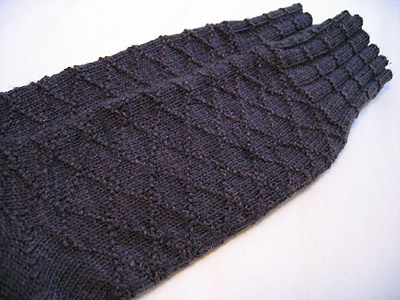 0
likes