I'm on a roll today! Look at all the posts!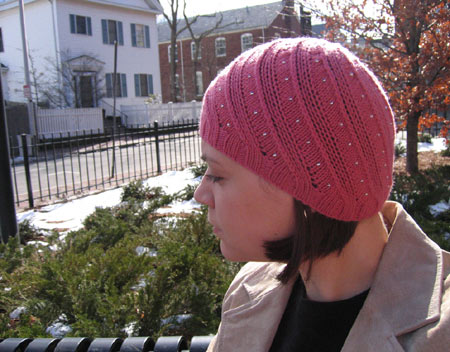 Pattern and all the details: Right over here!
After a bit of deliberation, I decided to call the hat Odessa. The color of the original was identical to the color of lilac blossoms (strikingly so), and lilacs always remind me of Eastern Europe, Odessa in particular. In addition, I think it's a memorable name, and easy to roll off the tongue. To seal the deal, Sarit's mom and grandmother (my godmother) are from Odessa (Odessitki).
I am eternally grateful to Kerrie and Alexandra from MagKnits for bringing this pattern to you on such short notice (2-week turnaround as opposed to the typical 2-month, at the least). You see, I pleaded with them for the pattern to be published in this issue so that you wouldn't have to wait too long and so that the pattern would be in-season, and these two generous women entertained my whims – thank you.
1
like