I am not sure how to properly thank you for all your wonderful comments about grandma's shawl other than to say, thank you, from the bottom of my heart. I'm so happy with the outcome – English is not my first language, and idiomatic expressions are especially challenging, but I believe the expression is pleased as Punch :).
I mailed off the shawl on Friday and grandma should be receiving it within a few days. I'll report her reaction, of course, but I remind those of you who "must have a picture of grandma wearing her shawl" that she is many hundreds of miles away and I probably won't get to see her until June-July-ish. Also, is it just me, or is it incredibly odd to pay $1.11 in postage to mail something that I spent many, many hours knitting? So odd.
Will you forgive me if I tell you about my interaction with the shawl distributor another time? Because, damn, I have a funny story for you.
February 11, 2006, 7 p.m., phone conversation with my parents
Dad: Hi!
Me: Hi, dad, how are you?
Dad: Listen, when you called earlier I forgot to ask you about something.
Me: Oh yeah?
Dad: I hear that you're knitting black socks for me.
Me: Uh-hum.
Dad: So, how far along are you?
Me: Right now, one and a half socks, dad.

Dad: Oh, already one and half. Compared to the other pair you knit me, are they thinner or thicker?
Me: Thinner. Why?
Dad: Oh, good. Because the others are a little tight in the calf, and thinner ones will be looser (note: non-knitter reasoning).
Me: Oh! You should've told me earlier, I can totally adjust for that.
Dad: But they are fine, really, I wear them every night to sleep. But you know, it's just a stitch.
Me: Exactly, it's just a stitch, you should have told me earlier.
Dad: I mean, I still wear them, every single day.
Me: Okay, I understand, but I could have adjusted for that, or paid extra attention to that on this pair if you told me earlier. Now that one and half are done… I think they'll be okay, but I can't adjust for that.
Dad: The others are fine!
Me: I get it!
Dad: So, I don't want to put any pressure on you or anything, but when do you think you'll be done? Because your mom has been nagging me…
(Mom takes phone away from dad)
Mom: Listen, you have to finish those black socks for your dad.
(Dad in background: She doesn't have to finish them!)
Mom: Because he won't let me wash the other pair you knit him – he wears them to sleep every night!
Me: Wait, I knit those more than a year ago…
Mom: And he has yet to let me wash them!
Me: You mean he won't let you take them away for one night to wash them?
Mom: Yes!
(Dad takes phone away from mom)
Dad: You don't have to finish them.
Me: Dad, please, I have just a little bit left. I do wish you told me earlier about the cuff.
Dad: Well… and the other thing is that I wear these dark socks to sleep, it's a little odd.
Me: Oh yeah, mom told me that you wanted light-colored ones, like beige or gray or oatmeal.
Dad: Yeah. Well, yeah.
Me: Mom told me about that literally one day after I started the black ones. You guys should just tell me – it's just as easy for me to buy beige yarn as black, so I end up taking a guess for no reason at all! Same about the cuff of the other ones I knit for you.
Dad: They are fine.
Me: Dad, I know they are fine. You sound like grandma – she has never told me anything other than, "they're perfect." But I really appreciate the feedback, it's so easy for me to incorporate changes into the next project.
Dad: Okay, so here's the deal – you finish these black ones for me, no time pressure, and then I'll tell you how I like them, and for the next pair, you'll make them light-colored and incorporate my suggestions.
Me: Finally. Yes, dad, that's what I want!
—-
I gotta finish 'em socks. Because, you know, my dad has stinky feet and it's all my fault :).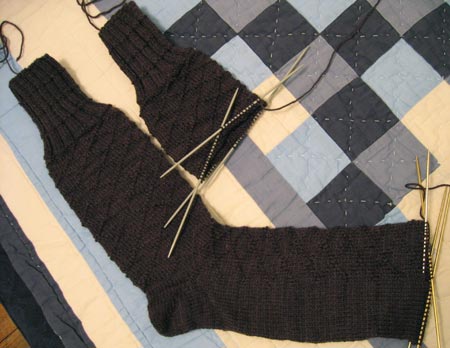 0
likes