Your response to Odessa in all its forms (private e-mails, comments, and discussions on knitting forums) has been simply overwhelming. Thank you. Thank you, again.
I'm happy that the pattern is well-received so far (final judgment when a few hats are finished, right?), and I'd like to let you know that Isela has started a knitalong, and so has Whit; there's also one on Craftster. Scout encourages you to join her in knitting Odessa for Yarn Harlot's Olympics (Scout, m'love, are you sure?).
If there are other KALs, leave a comment and I'll pass on the message to interested knitters.
I'm very (very!) interested in knowing how your Odessas turn out, so drop me a line when you're done, okay? 😉 Guinea pig #1 and Guinea pig #2 report success, but that's a very small sample size, eh?
About this Odessa thing – I am certain that the Odessa in Texas and the Odessa in Michigan, and the Odessa in New York are lovely cities, but the Odessa after which the pattern is named is the one in the Ukraine, on the coast of the Black Sea.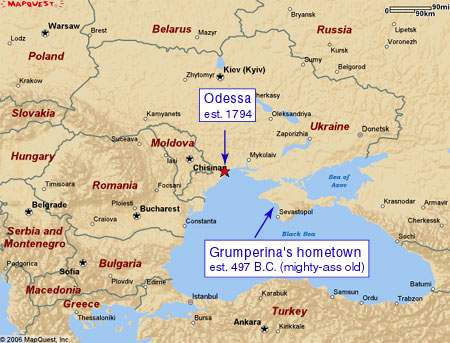 Now, let's get to the meat of this post. The only thing that's come up so far is beads… what is up with these size 6 beads? I am lucky to have never needed to ponder this question – I just go to the LBS (local bead shop), Beadworks, pick beads which look the right size, and that's that. But I've got Google and Wikipedia, and you've got questions, so I'm happy to do a little research.

Bead shape I chose to use seed beads in this project, which are also known as rocaille beads. They are nearly spherical, just squished a bit; they may have a perfectly round hole, or a square one. I understand that sometimes such beads are called E beads, especially in the range of sizes used for this project. Of course you can use more oblong beads, or diamond-shaped beads, or square-ish beads, as long as they fit the yarn as described below.


Bead fit For this project, you want to select beads which, once threaded, move along the yarn with gentle nudging, but at the same time stay put if not tugged. This way the bead has no opportunity to travel to a neighboring stitch (while you're not looking, of course – sneaky bead!) and you don't shred the yarn as you knit.

Bead size For Rowan Cashsoft DK, the bead size which satisfies the bead fit requirement is the size 6 seed bead, also known as 6/0.
Seed beads have interesting sizing designations which look like 6/0, 8/0, 10/0, and so on. A smaller number represents a bigger bead, with 6/0 being one of the largest commonly-available seed beads. All of my 6/0 beads are 4 mm in diameter, although on various websites I've seen 6/0 beads listed as 3.3 mm – I think this is a minor difference. Approximately 10 beads lined up side by side make up an inch. Most importantly, 6/0 beads are not 6 mm in diameter.

Pre-stringing beads I pre-string using a Big Eye Needle, which has a big enough eye to fit a strand of yarn, but is thin enough to pass through 6/0 (and even 10/0!) beads.

Knitting with beads Let me put up this diagram one more time, because it accurately depicts how one knits with beads (for this pattern).

This concludes our beading lesson. Any questions for the teacher? 😉
0
likes