My shining star is this beautiful hat for Ori!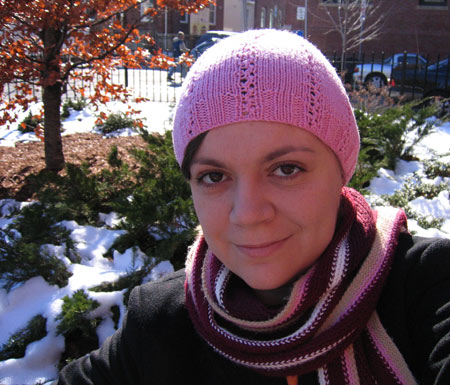 Let it be known that I'm completely disregarding my doctor's orders to stay indoors (I'm recovering from an ear infection) in order to bring you these photos. And the ear infection? Throwing off my balance, as always, so knitting is a whole different kind of challenge right now :).
Pattern: Shining Star by Kate Gilbert.
Yarn: Debbie Bliss Baby Cashmerino, 55% Merino wool, 33% Microfibre, 12% Cashmere, color #006/pink. Only 1 skein! Actually, even less – 44 grams/120 yards.
Needles: The majority of this hat was knit on 16" US 4 circs. There were a few dpns and a US 2s thrown in there just for fun ;).
Size: 18" in circumference and 7" in depth completely unstretched. For reference, the model's (hehe) head is 23" in circumference.
Thoughts: I love this hat! I'm all about clever construction and design, and if this hat doesn't fall into that category, I don't know what does! I used Emily Ocker's circular cast-on to start, which is the third most fiddly knitting technique I've ever used. To quote Michelle, "so fiddly, it is virtually an entire string section!" However, the results are worth it to me.
(Also, please don't let my opinion of this cast-on influence you – I happen to know for a fact that many knitters absolutely love the two techniques I consider most and second-most fiddly ever.)
Click the extended entry link to read about the modifications I made to this pattern, including directions about removing that cone-shaped pucker at the crown of the head.

Modifications:
The biggest modification was knitting this hat using a much thinner yarn than what the pattern calls for – I used Debbie Bliss Baby Cashmerino and US 4 needles while the pattern calls for worsted weight yarn and US 7 needles.
Despite (and because of) this substitution, knitting the pattern's Adult L size actually fits my head perfectly! You see, the pattern is written with zero ease – if you want to fit a head that's 22" around, you knit a hat that's 22" in circumference. I don't know about you, but my 23" melon really likes the fit of handknit hats that are 17-18" in circumference. Therefore, knitting the Adult L size with thinner yarn and needles actually resulted in a smaller hat that fits my adult L head!
The second modification was reshaping of the crown (doesn't that sound like plastic surgery or dentistry or something?). In my extremely brief experience with hats, a nice spherical shape is achieved by increasing every row until about one-third to one-half of the total number of stitches are in place, and then increasing every other row until the rest of them are added. In this hat pattern, the knitter increases every other row from the very beginning, which leads to the conical pucker at the crown of the head.
To fix this: (1) immediately after casting on, I knit every stitch for 1 round. I think starting the yarnovers too quickly results in an unsightly puckered rosette. (2) I omitted all even rounds from 2 through 18, which are basically the "knit even" rounds in the first stage of the petal formation.
I also made some more minor modifications – I added a few yarnovers in key places so that the hat is worked over 115 stitches. This will work well for Ori; for myself, I'd add 5 more stitches somewhere. I changed the recommended 1 x 1 ribbing to a *k4, p2, k3, p2 ribbing (don't ask… as long as it looks good, right? :)). The 1 x 1 ribbing just didn't seem to match the large wedges that form the rest of the hat. I worked the ribbing on US 2 needles, bound off using US 4 on the wrong side of the fabric – I think it looks better that way. Last, I changed the eyelet rays radiating from the center so that all ten are worked the same way on any individual round.
0
likes