Just because I'm knitting a shawl, doesn't mean I've stopped taking the bus.
Let me explain.
I must have a portable project at all times, which gets whipped out on the bus and the train, as well as in line at the post office. I think to myself, what did I do before knitting? Did I have more patience to just sit or stand there without doing anything? Because now, as soon as 45 seconds have gone by without doing something, and it's clear that there will be 10 more minutes just like it, out come the needles.
So, although the shawl is my primary project at the moment, it has not seen the world outside my apartment. This, however, has: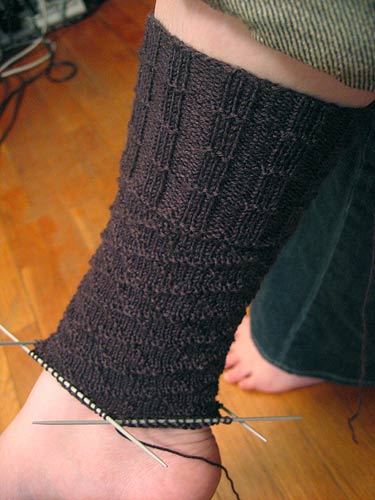 Oh, yes! These puppies were dragged all over New York City last weekend, and have seen a bit of action since then, too. They will also be my companions as I travel this weekend.
————-
I started out knitting them on US 0, 5″-long Brittany birch dpns. Boy, oh, boy, my hands love working with non-metal needles. Not a tinge of pain, just pure comfort.
Then in an unfortunate incident involving trying on the sock-in-progress, I snapped one of the needles. Boo! I substituted a metal INOX needle in its place.
Who was I kidding?!?
Knitting with metal needles is so much faster than knitting with non-metal ones! It was like, I looked forward to using the sole metal needle in each round. As you can guess, it was only a matter of a few rounds before the remaining four Brittany birch needles were ditched in favor of the complete INOX set, although they hurt my hands a bit.
————-
Nancy Bush's pattern instructs us to work these socks over 80 stitches. Knowing that my dad has rather dainty feet (he'd kill me if he knew I was saying this), I decided to work the pattern over 70 stitches. And I did just that for several inches before I stopped the denial and admitted that even 70 stitches were too much! I ripped to the cuff which I left as is (worked over 72 sts), decreased to 60 sts thereafter, and now the sock seems to be the right size.
People, have I entered some parallel universe?
In what country, on what planet, in which dimension, is working a 60-stitch sock out of Lorna's Laces on US 0 needles in (basically) a stockinette pattern result in a sock sized for a human? As opposed to a Chihuahua, of course.
Purly agreed that this was indeed strange, and suggested that it may be my gauge.
Of course – although it's only 60 stitches, the sock is about 7.5″ in circumference, which is just the right size for someone whose foot is 9″ around (socks require negative ease, too).
Weird, huh?
Shawl update: very little progress. First, a lot of grading has had to be done. Second, since we last spoke, I have found three more typos, two of which needed some mental power to figure out.
0
likes