My friends, you're all so cute :). Nothing like a little contest to make the lurkers and the quiet ones say, "hi!" Well, hi! Thanks for stopping by! And I love how all of you have your own special reasons for choosing one date or another, like a birthday or… Australia day.
So, we'll see when the finishing happens (if it happens). Of course I have some rough idea of when I think it will be, but I won't disenchant for now. And of course I now have closed the comments to the contest post just to make things fair and square.
I bet you're dying to find out what the progress has been in the past few days ;).
What's happened in the past few days is that I came across four typos in this pattern. Two were very obvious, and the other two, not at all. As a result of finding them, I've established contact with both the pattern distributor and the designer. The designer, Sharon Winsauer, has been very receptive to my comments, which I appreciate – it's much better to have a conversation about the pattern than to grumble under my own breath.
Those four typos were little, tiny stumbles, resolved by careful counting and making sure I wasn't imagining extra stitches. With a bit of fiddling, I was able to figure each of them out on my own.
However, as I continued knitting (last night right after I posted the contest), I came across THE BIG ONE. An obvious mistake that spanned 6 rows and about 30 stitches. Obvious in the sense that when I knit it, although the stitch count worked out, the pattern didn't come out looking right. I counted and looked and compared, but I couldn't figure out exactly what needed to be changed in order for things to line up.
Every knitter has her limitations, and although I can whip up instructions for sleeve cap shaping out of thin air (like magic!), designing lace is not even close to being a comfort zone for me.
I sent Sharon an e-mail explaining the problem the best I could at 3:30 a.m., and when I woke up this morning, she had responded that she didn't see anything obvious, but that she'd swatch over the weekend to check.
The weekend?!? That's like three days away, and I'd probably have to wait until Monday for a response! All the time I'll be traveling this weekend will be… sans shawl!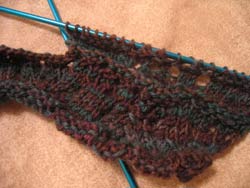 So, this evening, I sharpened my pencil, got out some scrap yarn for swatching, and figured it out.
Yes, I did.
The solution was not at all trivial.
It took 4.5 hours to figure out how to change those three rows (only the right-side rows needed changes).
Shit.
So much for speedy progress!

And I'm not even to the part yet where I make crazy mods, omit the "wings," play around with the border, and so on.
Are you regretting guessing January 9th yet? Hehehe…
Obligatory progress schematic: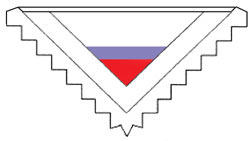 Your eyes aren't deceiving you – there's been no noticeable progress.
Obligatory progress photo: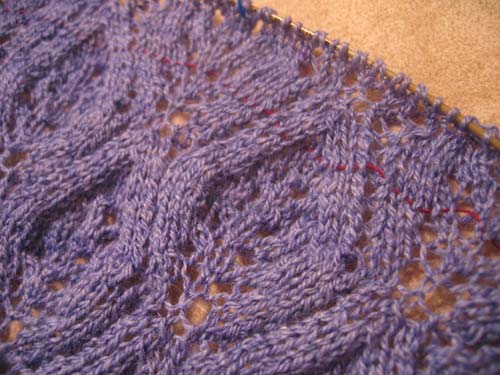 When fooling around, don't be a fool, yo! Protect yourself by using a lifelife! Yo.
0
likes