June noticed. She called it, "a certain level of fetid discontent coursing through the fiber 'blogosphere lately." I, too, had the knitting blues last week. BIG time.
June, how about knitting some hats? They seem to have really snapped me out of something vile.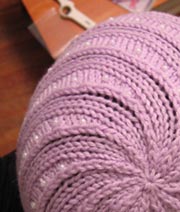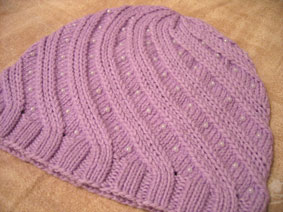 Happiness #1 Sarit's hat – it's done! More happy news – it's scrumptious… delicate, feminine, with every detail accounted for – I'm smitten!
More happy news – in addition to fitting my monster 23" melon, it fits smaller heads, too (and looks great on everyone who's tried it on so far!). I think little Sarit and her 20.5" head will be very happy.
More happy news – the pattern will be up shortly… a few weeks.
Several of you asked about the beads – are they on securely? How did I even get them on there in the first place? I'm not going to reinvent the wheel here (Googling "knitting with beads" results in 1.8 million hits), but I'll mention some relevant specifics.
For the particular way the stitches slant in this pattern, I prefer to prestring the beads and actually knit them into the fabric. The bead sits on the right leg of the knit stitch "V."
(before you say anything, yes, I do know about the non-prestringing crochet method. But I like this way for this pattern).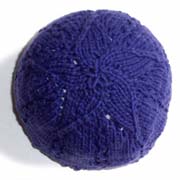 Happiness #2 Selecting a hat pattern for Ori has been very painless. Sometimes it takes me hours of web surfing and mulling over to decide on stuff like this! But in this case it was simple – Ori's hat will be Kate Gilbert's Shining Star. I plan to knit the second-to-largest size using thinner yarn, and I plan to use Emily Ocker's crochet cast-on.
This is a fancy lil' technique that's often mentioned in the context of starting a shawl that's worked from the center out. It allows one to cast on a very small number of stitches in such a way that when the tail end of the yarn is pulled, whatever hole remains is closed up.
I decided on this even before Kate Gilbert and I started to exchange some e-mails (I had temporary problems downloading the pattern, which is how the exchange began), and that was one of the first things out of her pseudo-mouth – use the E. O. cast-on. Great minds think alike ;).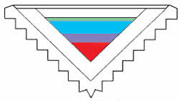 Happiness #3 I am past HUGE #3. I'm keeping track of the mistakes, as I mentioned. So far, 10% of the rows have mistakes. Some have only one little typo, others are a complete mess, with many stitches incorrect. I just hope the borders go a little better when I get to them.

Speaking of, do you ("you" being experienced lace knitters) recommend that I block the main triangle before knitting on the borders?
Sadness #1 through #460,072 I'm not done grading the lab reports :(.
0
likes