Woa, I'm back, surprisingly in one piece. Not much knitting was accomplished this weekend, but I have a knitting story to entertain you nonetheless.
I swear the Boston South Station T-stop attracts the weirdest knitting admirers. Remember this lady? Anyway, I'm sitting in the station waiting for the train, knitting away, when this middle-age dude sits down next to me. Nothing happens for a few minutes, and then he takes out dental floss, unrolls a few feet, and proceeds to thoroughly, methodically, carefully floss his entire mouth. Say it with me, ewwwww!!! There were bits of food and saliva flying everywhere! I slid myself a few feet away from him along the bench. Next thing I know, he takes out a toothbrush, and toothpaste, unscrews the cap, puts a bit on the brush bristles, and starts brushing his teeth! GAH! Mama mia, I was so grossed out. Although we were still sitting on the same bench, at this point I moved myself so we were as far apart as possible. Anyway, he finishes the brushing, puts the toothbrush away (without washing it), and doesn't rinse his mouth or anything. His entire face is covered in toothpaste, and his hands, too. Only then he decides it's an appropriate time to slide close to me and ask me to touch my knitting.
My answer (I quote), "No fucking way!" at which point I promptly gathered all my stuff and stood up to wait for the train.
EWWWWW!
---
Last FO of 2005!
Let me tell you, my grandma is one lucky lady! The color of these puppies is not exactly what she would have chosen herself, but I know she'll enjoy the softness and the fit.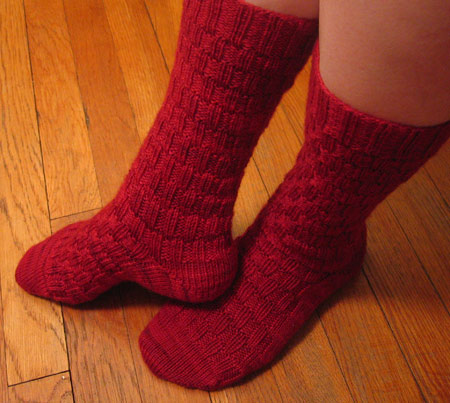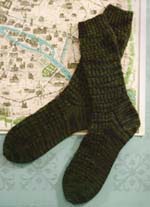 Pattern: (ironically) Gentleman's Fancy Socks from Nancy Bush's Knitting Vintage Socks
.
I made a few modifications to this pattern: I knit short-row heels and toes because my grandma really liked the way they fit on this pair. I also adjusted the stitch and row counts to account for using sportweight yarn.
Yarn: Lorna's Laces Shepherd Sport in cranberry, 2 skeins.
This is seriously soft yarn. Like freakin' butta. Or better yet, like the center of a freshly baked, hot from the oven, dinner roll. I don't think I would use this yarn again for a pair of socks – I know they'll be annihilated within a few months. However, I would love to use this yarn for winter accessories, hats and scarves in particular. Yes, I would love to wrap my neck in some of this ultra-soft merino Lorna's Laces goodness, yes, I would ;).
I was planning to weave in some reinforcement into the sole, but I only have gray and black (both showed through too much), and well… I just said, fuck it. Whatever. I'd rather knit another pair of socks than go through the trouble of hunting down some matching reinforcement and weaving it in. I mean, I finished these in less than a week, and knitting them was a lot more fun than weaving in reinforcement thread.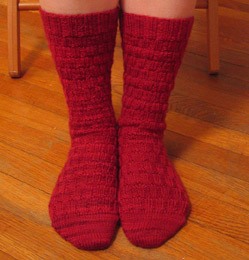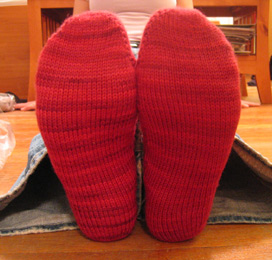 Although the skeins were the same dye lot, the two socks came out quite different. Look! The one on the left is much more variegated than the one on the right! (Also, look! No ladders!)
Needles: INOX 2.50 mm (something like a US 1.5, depends who you ask) double-pointed needles, set of five. My stockinette gauge was 7.5 spi with these.
And the calf shaping – fascinating!
0
likes