Before I start, if you haven't chimed in on the border dilemma yet, I'd really, really appreciate your input.
——–
I crocheted.
Shhh! Not so loud! Come here, yes, here, away from the others. Now, I will speak softly. We will whisper. Calm down!
Okay, all settled?
I'll say it one more time – I crocheted.
Contain yourself, woman!
I will tell you how it happened, just keep it down! I will tell you, and we will not speak of this again.
Are you ready?
It all started with a picture.
Remember my former co-worker S. and her husband E.? I knit the Grumpecue for their soon to be born baby, and I have never, ever in my life met more thankful recipients of a handknit. Their reaction to the Grumpecue was so overwhelming (tears, hugs, yelps, more hugs), that I vowed to knit more for this happy couple, and for their little baby.
A few months went by, and in a rather predictable fashion, the baby has been born. E. sent us all a picture a few days ago and this little angel is delicious. Delicious, I tell you! I am not at liberty to share the picture (or the baby's name, for that matter), but trust me when I say, she had me at 933 kilobytes. Little pink-lipped Deliciousness, with strawberry blond hair, just like her mom.
As soon as the picture hit my Inbox, BAM! The wheels went rolling. Must knit, must have needles, yarn, pass me some yarn, pattern… what's the closest thing to me? Oh, grandma's shawl, no, no, what's below… Shining Star!
I picked up a ball of Debbie Bliss Baby Cashmerino at Windsor Button in a most luscious colorway, 104/orange. It is the color of the outside of an apricot, or the inside of a cantaloupe, or something like that. Yum.
I knit the baby size of the Shining Star pattern with nothing major to report until the bind-off.
You see, the hat is knit from the top down, so there's always the question of the bind-off. It was fine to use the regular 'pass knit stitch over' bind-off when knitting Ori's hat because I could try it on my head and make sure it wasn't too tight. But when I used this bind-off on Deliciousness' hat, I just wasn't happy – was it too tight? Just right? I don't know! The idea of any tightness around a delicate baby's head was very unsettling.
I could have tried another, more elastic bind-off, like the sewn bind-off, or that funky bind-off I used on mom's shawl, but my first instinct was to leave the stitches live and sew them into place, much like attaching picots at a bind-off. Because I chose to make a folded hat brim, this also secured the brim into place and prevented it from unfolding. At the end, while this method proved to be very stretchy, it wasn't very neat since the loops were attached on the right side of the fabric.
And then… then some crazy Crochet Devil got into my head. There was no rationale! Without any research or idea what I was doing, I just picked up the hook and started looping.
On the first trial, I looped the yarn through the knitted fabric twice… so there were two loops. And then I put the first live stitch on the hook (3 loops), and pulled the live stitch through the two loops (1 loop). Made another loop through the fabric (2 loops), next live stitch on hook (3 loops), and so on. That didn't work so well. Next I tried the same thing, but in two steps – first, pull the new loop through the old loop (1 loop), and then pull the live stitch through the new loop (1 loop). Make another new loop (2 loops) and repeat.
Did that make any sense? I doubt it. That's why I had to rip it out and try again two more times! And then once I got the technique down, two more times because the stitches didn't line up perfectly. Don't look at me like that! You know me better than that – I can't leave a perfectly fixable imperfection ;).
But this will make sense!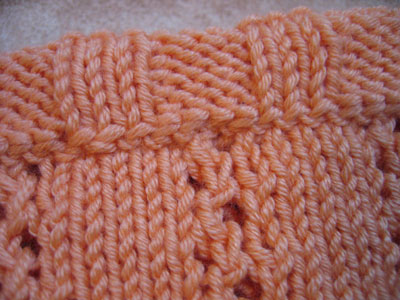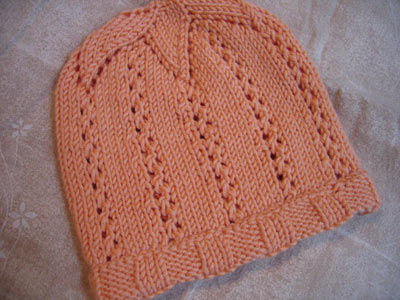 And I'm telling you right now, SO stretchy! And SO neat. This is the technique of the day for me; it works great if you need to attach live stitches to the right side in this fashion.
Oh, and the reason we will never speak of this again is because I don't know what I'm talking about. Clearly.
Loops. Heh.
This isn't an FO yet, by the way, as I still have 20 grams of DB Baby Cash to play with :).
0
likes