I'm so sorry if my tone towards crochet offended anyone, but you completely misunderstood me.
It's actually pretty funny. You see, the official Grumperina stance towards crochet is as follows, "insufficient knowledge to comment." 🙂 That's why I insist that we don't talk about it, or that we talk about it in hushed voices – it's not that I feel negatively about crochet, it's more that I have no business owning a crochet hook, let alone telling you about my crocheting adventures. It's the equivalent of posting details of how I single-handedly changed all the electrical wiring in my apartment – I don't know anything about that stuff, so I shouldn't be talking about it, and you'd be wise not to read ;).
Not that I would ever change electrical wiring on my own… I have such a fear of fire… I'm just saying it as an example.
So, the little gift for little Deliciousness is complete!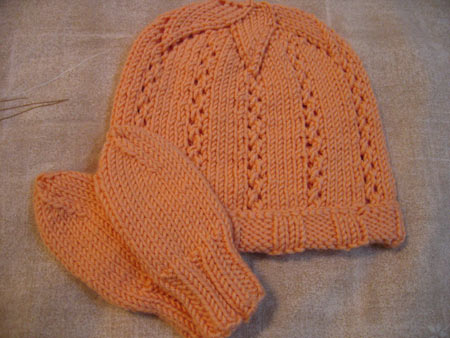 You've seen the hat, and those two other little things are thumb-less mittens! Baby's first winter accessories set – awww!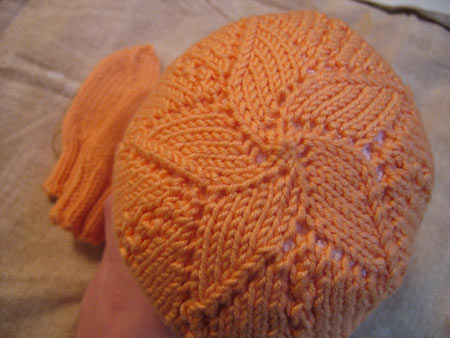 Pattern: Shining Star by Kate Gilbert plus little mittens of my own construction.
Yarn: Debbie Bliss Baby Cashmerino, 55% Merino wool, 33% Microfibre, 12% Cashmere, color #104/orange. As before, only 1 skein! Actually, even less – 36 grams/98 yards.
Needles: Most of the knitting was done on US4 dpns, but I used other sizes as necessary.
Size: The hat is 11.5" in circumference and 5.75" deep, completely unstretched. The mittens are 3.75" in circumference and 2.75" deep (plus 1.5" ribbing). My completely unscientific market research (measuring stuff at baby H&M using my palm as a measuring tape) indicates that this is the right size for baby to wear right now, which is my intention.
Modifications: Using the same exact reasoning as before, I substituted Debbie Bliss Baby Cashmerino, knit the baby size, and actually got a baby-sized hat at the end! Same mods on the crown increases, too.
Off to little Deliciousness!
0
likes