Let's make a deal – you tell me when you've had enough of my family, okay? Otherwise, I'll continue bringing you cuteness reports :).
Here I am visiting the folks, and I must tell you, it's quite nice. Yeah, they are that cute.
I've been completely overwhelmed with teaching stuff lately, and I arrived at their house in possibly the pissiest mood ever. Why? Because during the wonderful, soothing, quiet, 4.5-hour train ride to my folks' house, I did not knit a stitch. Instead, I graded lab reports, continuously, without any break. Which of course resulted in getting car-sick by the time I had arrived. Grrrr…
But as I stepped inside the house, my mood lifted. My grandma gave me the hugest hug ever, and would not let go forever. As I was snacking in the kitchen, she daintily took off her slippers and moved her feet around, so I would notice that she was wearing these. We spoke of the shawl, but she didn't immediately ask me to see it. Curiosity eventually got the best of her, though, and she asked for a peek.
She insisted that we move to the living room where the light was better. Because knitted lace looks like crap and a half before it's blocked, I showed her the pattern picture first. She inspected, delightfully smacked her lips and said to my mom, "mine will be prettier than yours!" Then she held one side of the shawl-in-progress as I pulled on the other, finger-blocking to reveal the pattern. I think she really likes it ;).
She and my mom both commented on the thinness of the yarn and needles. My grandma joked that the shawl will be ready in time for next winter. It won't be done any time soon, that's true, but it snows in April around here, so I hope her prediction won't be entirely accurate.
Dad's reception of the sock-in-progress was very lukewarm in comparison. Either he was tired or truly doesn't want another pair, despite what my mom and grandma tell me. No problem – my grandma's feet are the same size as his, and she can have the socks if he doesn't want them.
Mom's shawl is holding up well. Some ends worked their way out (like 1/4″) and she freaked out a bit, tying them into all sorts of weird square knots. I assured her that the ends weren't going anywhere, and that the best course of action was to leave the loose ends as they are without trimming, if she could handle that little hint of messiness. She agreed.
Dad's Sharfik is a freaking disaster, however. Hear, ye, hear, ye! I don't consider my dad to be hard on his clothes, especially a scarf, but this is what Karabella Aurora 8 looks like after less than 2 months of wear.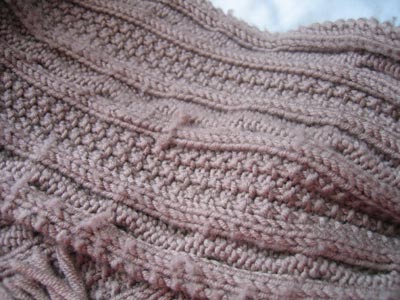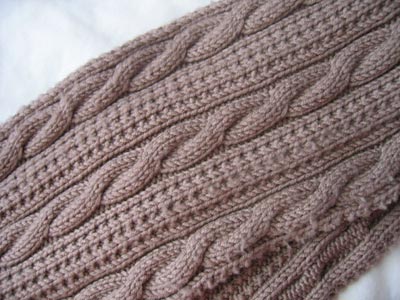 Shameful. The pilling makes me cringe. But my dad still wears it because I knit it – double-edged sword.
Today I'm off to a knitting lesson with the one and only Annie Modesitt. She is my knitting hero, and I feel privileged to visit her house and meet her family.
Ciao for now!
0
likes