First, note the time of posting – well past midnight on a weekday, and you know I've got to be at work bright and early tomorrow morning to take my reactions out of the heating block. Like, gotta be there at 8 a.m.
Reason: grandma's shawl.
It started out innocently enough – I got home a little after 7 p.m., dialed my best friend, and picked up grandma's shawl. We chatted and I merrily knit along, completing a few rows since the last time I posted.
Somewhere around 8 p.m. we finished our conversation. I turned on the TV (Everybody Loves Raymond on TBS), and just like that, I noticed something funny about the pattern.
I will try my best to explain to you what I mean by "something funny about the pattern". It's important to note because this is the stuff that causes the HUGE mistakes, ones which span multiple rows, ones which I've already encountered twice before.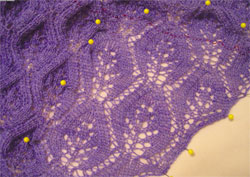 The main triangle of the shawl is composed of a modified Ogee Lace Pattern from Barbara Walker Numero Uno. In this pattern there are delicate leaves surrounded and separated by a zigzag ladder of sorts. In order for the zigzag to be continuous and look correct, the sets of yarnovers and decreases which form it must be right above one another.
This is a triangular shawl, so the width of the overall fabric constantly increases. As it does so, new leaves must be slowly incorporated into each edge, and with new leaves, come new zigzag ladders.

That's the "something funny about the pattern." When new ladders are introduced and all of a sudden the sets of increases/decreases do not line up right on top of each other, I know there's trouble. The stitch number may be correct, and the chart may look right to the naked eye, but it doesn't knit up to give the right thing!
Of course having the chart appear correct at a first glance, and having the stitch number work out does not help to identify and fix the problem! In fact, it's quite counter-productive!
The two times I've already encountered this issue, I was able to find the solution by carefully swatching and shuffling around the location of various increases and decreases to ensure that the ladder stitches lined up.
But today was different.
I tried the usual fixes, but they were not working out.
Aha! I noticed that in those same rows there were also problems with the double decreases, another consistent issue with this pattern. So now I had to figure out both the double decrease problem and the ladder problem for the same rows!!!
By the time Project Runway came on at 10 p.m. I thought I had found the solution.
Yet I was a stitch short.
That's when I cracked.
It happens with projects like this (AV and the Q come to mind).
In utter frustration, I banged my little fists against the clipboard holding my ridiculously marked-up pattern, and pouted. And cried (just a little) – frustration and anger, not sadness.
Damn. This is possibly more frustrating than AV + Q!!!
By the time Project Runway ended, however (I was happy to see that they released Diana – I think she wasn't cut out for that level of competition), I had at least identified the problem – ladders, double decreases, and somewhere, two missing yarnovers. All within 6 rows, or 3 right-side rows. What a mess.
I started to tink back… maybe about 6 rows or so. I was grumpy and frustrated and tired and clumsy, and let's just say that it took me about 10 rows to finally tink back one without dropping stitches or making weird knots or anything. Conan was over, and I had negated all of the evening's progress.
GRRRRRR.
Soon I will see if I can fix HUGE #3. But now, I have to go to sleep.
0
likes