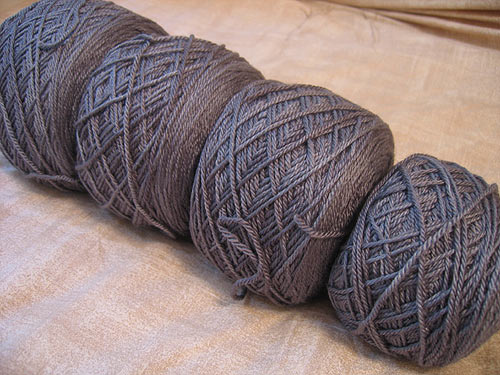 The yarn arrived earlier this week, and pretty much caused my jaw to drop to the floor.
The base yarn is Henry's Attic Silk & Ivory, 50% silk/50% wool. It feels like a dream – very soft, smooth, and silky, doesn't split, moves effortlessly over my needles. The silk content makes it look metallic, exactly like my mom wanted. I chose this yarn based on the recommendation of the dyer, and she certainly suggested a great one.
The hand-dyeing is entirely custom. I described to the dyer what my mom wanted, and we communicated over the course of a week as she dyed samples for me and e-mailed pictures of the results. We went back and forth until the color looked as close to perfect as possible to both of us.
The color is very difficult to describe and even more difficult to photograph. It has a hand-dyed consistency – nearly solid, but with subtle variations in intensity and hue. It is a rich and complex gray, and has hints of blue, purple, green, and brown depending on the time of day and what the yarn is sitting next to. The silk sheen immediately conjures images of mountain tops glistening in the sun, charcoal, hematite, mercury, steel.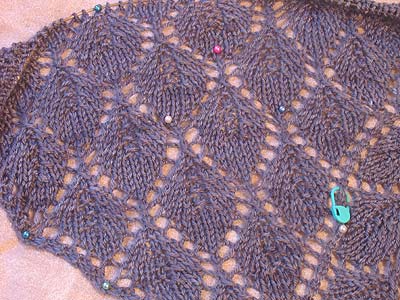 When the yarn is knit up, it looks more blue, a heathery denim type of blue. Beautiful.
Clearly the dyer understood exactly what my mom wanted – I mean, look at it!
I know you will ask – the dyer is a friend who is in the very final stages of setting up her own hand-dyeing yarn business. She will offer custom hand-dyed yarns of various varieties, so, like me, her customers will be able to select a color(s) and a yarn for their project, and have the totally customized package arrive at their doorstep within a few weeks. She is very detail-oriented, and you see the incredible accuracy of the results – this type of business is meant to be run by people like my friend. Anyway, she would like me to maintain her anonymity until the business is up and running in early 2006, at which point (believe you me) I will most certainly reveal to you who dyed this yarn for me. I hope the suspense isn't going to kill you :).
I admired the yarn lovingly for a few days, and last night I finally had the chance to cast-on for mom's Leaf Lace Shawl. The yarn is a thin sportweight (17 wraps per inch), and I will be making the small shawl size: 33″ deep, 68″ across top. The pattern suggests a US 8 for knitting sportweight yarn, and although I don't want to stray too far from the pattern, I went down to a US 7 – my yarn is on the thin side of sportweight, and I think I'll like the fabric better.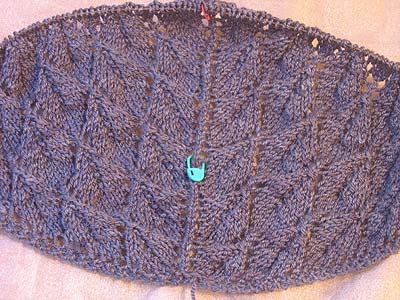 This is the stereotypical "wad o' lace" picture. There will be many more just like this in the future, but with each I will be claiming that I've "knit some more."
I am using an Addi Natura circular needle, which Savannahchik Jody recommended. It's been a really long time since I've used bamboo needles, and it took me a little while to get used to the grab. But the tips are pointy enough, and the joins are smooth, and the yarn is very slick, so a few rows into the knitting I was back in the comfort zone. After completing 3 out of the 10 repeats, I think I may need to get a longer one! I got a 24″ needle – that's a very standard, comfortable size for me, most of my needles are this length. But the stitches are starting to bunch up, and the pattern recommends a 29″ or 32″ needle, so I may need to upgrade.
Everything is going very well so far. I've had to tink back a few times, typically because I forget that the midline of the shawl needs to be worked differently than the two halves. I don't know if this is the type of pattern than can be memorized, but I'm definitely not there yet. Maybe I'll be able to do this lace-knitting thing after all? Granted I'm not working with true laceweight (that's definitely on my radar – next project), but I'm enjoying the process so far ;).
0
likes