Thank you, everyone, for leaving me the most delicious comments about mom's Lace Leaf Shawl. I mailed it to her Friday afternoon, so there's no verdict yet with respect to its "stupid" (hopefully not) status ;). I didn't expect to finish the project so quickly, but everything just came together perfectly. There were no false starts, there was no tinkering or thinking – it just worked from the first try. So, it was easy to just put my blinders on, ignore all other projects, and knit and knit and knit.
But not all projects work out beautifully like that. In stark contrast, I finally finished these socks for grandma: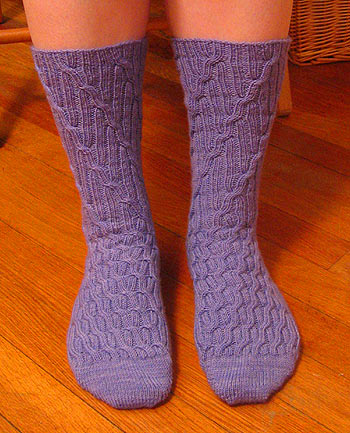 If we count from the time I cast on using Mountain Colors Bearfoot (which rubbed my fingertips raw), it took me almost two months to finish these.
Why did it take me two months to finish a measly pair of socks?
I hated knitting these. Man, how I hated knitting them. I was modifying and adjusting and cursing and frogging like a madwoman most of the time. I guess I don't like thinking when it comes to socks… I just want to knit, dammit! Socks are my choice (my weakness?) when it comes to mindless and portable knitting, so when they stop being mindless, and when knitting them is accompanied by three pages of written notes, the knitting side of my brain rebels. What is this? What is up with this? What kind of nonsense are trying to pull here, Grumpy? And so, once the socks acquired the status of an official PITA (pain in the ass), I did not even touch them except when I went to Stitch 'n Bitch, or waited in line, or rode the bus. I couldn't stand to look at them more than I had to, and it took me two months to finish them.
Anyway, they are done, and I'm quite happy with how they came out. It's interesting how satisfaction with the end product can make all the crap associated with how it got there go away.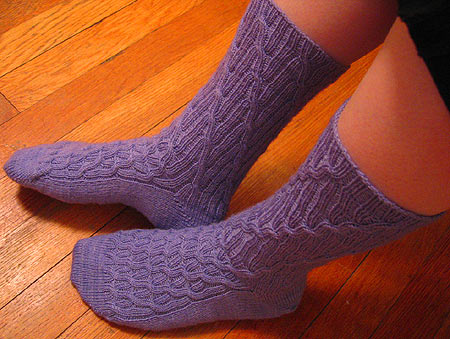 Pattern: very loosely based on Broken Cable Rib Socks from Interweave Knits WebKnits. I opted to cross the cables to the left on one sock, and to the right on the other. I first noticed and noted the pattern when I saw Carolyn make these for her Sockapal-2-za pal.
Yarn: Lorna's Laces Shepherd Sock (75% superwash wool, 25% nylon) in periwinkle; 2 skeins.
Needles: The toe, foot, and heel were knit on US 0, while the leg was knit on US 1. Both sizes from this set
.
Modifications: I knit these from the toe to the cuff, used short-row toes and heels (wrap method), incorporated the pattern into the foot while partially excluding it from the cuff to avoid a tourniquet-like effect . Those are some major changes, if I say so myself.
Here's a fun tidbit – grandma doesn't know about these! At all! I think she'll be very surprised when she receives them in the mail. I live for moments like this… I wish I was there to capture her reaction when she opens the package.
Speaking of socks, with the Jaywalker KAL in full swing over at January One, the gallery has been seeing a lot of action lately. I do my best to hunt down finished Jaywalkers and offer the knitters to include their FOs in the gallery, but I can't keep track of everyone, right? I just want to be clear that this is not an invitation-only process – drop me a line or leave a comment, attach a picture or a link to your blog, and I will be very happy to put your socks (or Picovoli or whatever else) in the gallery! It's not a "Grumperina hasn't asked me, so I guess she doesn't want to include these" situation – every FO is welcome!
0
likes