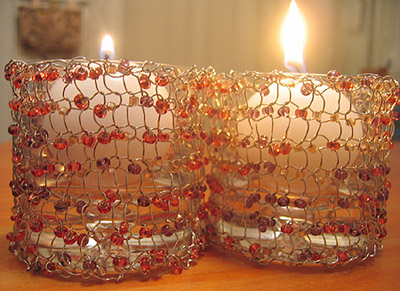 Pattern: Wire Menorah/Votive Sleeves by Annie Modesitt from Melanie Falick's Handknit Holidays.
Ingredients: (for the pair)
2 Crate & Barrel glass votive holders, 2.5″ high, 2.5″ diameter
2 Crate & Barrel round votives
24 gauge silver-tone craft wire, about 20 yards
about 630 beads; the mauve and strawberry are size 6, the peach are size 8
US 8 Boye aluminum straight needles
smooth needlenose pliers
gardening gloves
Thoughts: This was a super-fun project and I think the perfect introduction to wire knitting. I would definitely consider making a pair of these as a gift for a friend – it didn't take a very long time or a lot of planning and hard-to-find materials. Plus I can't think of anyone who would NOT like these…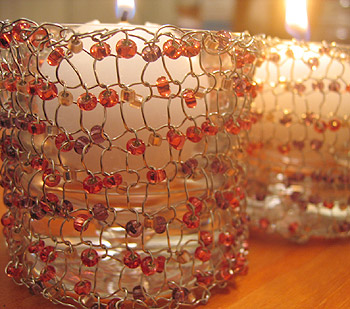 Tips, tricks:
Beads: Although I'm pleased with how the mauve and strawberry beads look, the peach beads weren't the best choice. They are pale and small, and are nearly unnoticeable. Next time I would use nearly- or completely-opaque size 6 beads, and select colors with more "pop."
Casting on: I liked the long tail cast-on. Although it's much more tricky to cast-on this way than to use the twisted loop cast-on recommended in the Handknit Holidays book, it's much easier to work the first row. Just think of it this way: if you use twisted loop, you'll need to knit through twisted stitches in the first row. And your yarn is wire. 'Nuff said ;).
Binding off: As attractive as typical grafting may seem, I don't think this is a good way to proceed. When I tried it, weaving the wire through each of the live stitches twice really took a toll on the working wire's condition and it ended up breaking halfway through. On the second votive sleeve I just wove the wire through each live stitch once as I joined them to the other side. Not as seamless, but much less work and the wire didn't break on me.
Blocking wire: A must. The wire doesn't look particularly attractive when it's just knit, and it isn't the right shape and size. Gentle tugging works miracles, and if you find the wire to be rough on your hands, use gardening gloves.
The right side: The purl side of beaded wire knitting definitely displayed the beads much better than the knit side. But the knit side was also attractive. I guess it's knitter's choice!
Frogging: Ha! Don't. Even. Think. About. It. (Which doesn't mean it can't be done. Which doesn't mean I didn't do it. Successfully. But the wire really takes a beating and I wouldn't use it again.)
Collecting spilled beads from the floor: Incredibly informative since you see all the dust bunnies in every corner and know exactly what your vacuuming is leaving behind. Based on the number of times I found myself on all fours scouring the floor for dropped beads, you'd think I highly recommend doing this ;).
0
likes