… to capture the beauty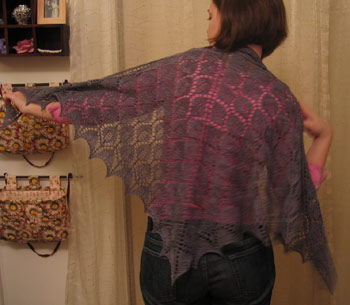 This shawl is spectacular, but I had no idea how difficult it was to take a good photograph of such a large and intricate object.
Pattern: Leaf Lace Shawl, designed by Evelyn A. Clark for Fibertrends. This pattern is very popular, and for good reasons. It's very well written and not very complicated. Instructions for two sizes and four yarn weights (8 total options) make it a good fit for whatever yarn is lingering in your stash. Adjustments for larger or smaller shawl sizes are elementary. And the results, well, the results are fabulous: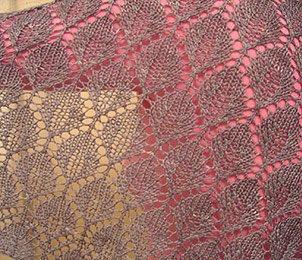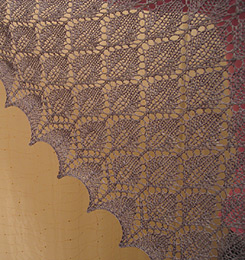 The leaves, specifically the way each leaf is surrounded by a halo of yarnovers, are easy to spot and very captivating. The edging is clever, beautiful, and fits perfectly within the sea of the leaves.
Size: I made the "small" size, working a total of 10 repeats in sportweight yarn, as the pattern specified. The shawl measured approximately 22.5″ deep and 48″ across before blocking (click to see a photo of me modeling the unblocked shawl). After blocking, the shawl is 29.5″ deep and 64″ across.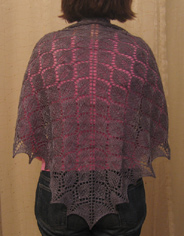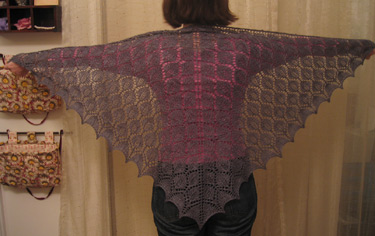 This is my only worry – I'm afraid this shawl is much larger than what my mom had in mind, but the faux pas is entirely mine. The pattern predicted a shawl that's even a bit bigger (33″ deep, 68″ across top) and I just didn't realize how big that is in real life. Were I to go back, I'd work only 8 repeats, which would give me a shawl close to the unblocked size, "an oversized bandana," as I called it earlier ;).
Yarn: The yarn makes this shawl. As I elaborated earlier, I've been knitting with Henry's Attic Silk & Ivory, 50% silk/50% wool. This is a spectacular yarn – very soft, silky, shiny, smooth, slides through the fingers like a good lotion. It was recommended to me by the dyer, and she really hit the nail on the head with this one. It blocked beautifully, has fantastic drape, shows the pattern very well, and I think will provide just the right amount of warmth for my mom. What else can I ask for?!? Oh yes, the color…
Oh, the color! Just the right blend of gray and blue, just the right handpainted consistency, just the right depth… it is exactly what my mom had in mind, exactly what I described to the dyer. But, damn, it's so hard to photograph accurately! I try anyway: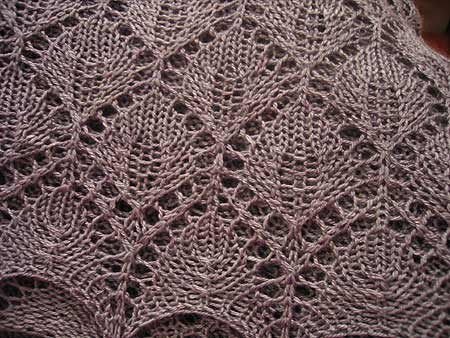 Feeble, feeble attempts. As I told a student earlier this afternoon, "Just believe me, okay?" Hehe.
I think it's clear that I seriously admire the dyer's ability to match my mom's request both by suggesting and custom dyeing the perfect yarn. I would recommend her services without any reservations, and will do so as soon as she opens her business in early 2006.
Until then, I scheme. Ha! You see, based on the final weight of the shawl (112 grams), I used about 500 yards of yarn, and have 800 yards (eight hundred yards!) left over. That's enough for another shawl and then some! Oh yes, another shawl and then some…
So, that's that for my first shawl attempt, for my first true lace attempt. Next: I mail this to mom, and cross my fingers that my grandma asks for a shawl, too ;).
1
like