Well. Sigh. Sigh of relief!
The Grumpecue is done, and I love it. I. LOVE. IT!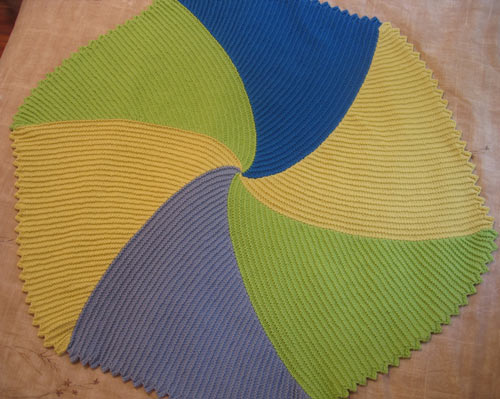 Montse
was right – six sections fit perfectly together, and there is NO puckering. Mind you, I did not block this severely at all – it's machine-washed and dried, that's all! If you can even call that blocking :).
The regulars know that this project has been a long time in the making. I started by challenging myself to knit Oat Couture's Curlicue, but abandoned the project when it became clear that the overall design of the pattern was flawed. I took the aspects of the pattern that I thought were good, and combined them to make a simpler, more colorful blanket, which I called the Grumpecue.
Pattern: Although it may seem like I came up with a whole new pattern, I just simplified the original Oat Couture Curlicue design. I put my modifications in the extended entry in case you want to make one of your own.
Yarn: Hand Work Cora, 60% cotton/40% acrylic, 1.5 skeins for each of the six wedges (9 skeins total). Although the yarn is very soft and squishy after it's washed and dried, it's pretty crappy overall. I elaborate in the extended entry.
Numbers: I used Boye circs
, US 6 (4.25 mm), which gave me a gauge of 21 sts/4 in in st st. The finished Grumpecue is 38″ in diameter, and as far as I can tell (contrary to my initial predictions), it is a perfect 360° circle :).
It was a struggle, but I'm SO happy. The Curlicue was a bitch, and I had no idea whether the Grumpecue would even work when I conceived it. I'm relieved, I'm pleased, and most importantly, I think my coworker will love this blanket for her baby girl, due to arrive in mid-January.
I'll even take this one step further: I'd knit another Grumpecue, but with a better yarn next time :).
More detailed pictures in the extended entry – enjoy!

Noteworthy details:
Scalloped edging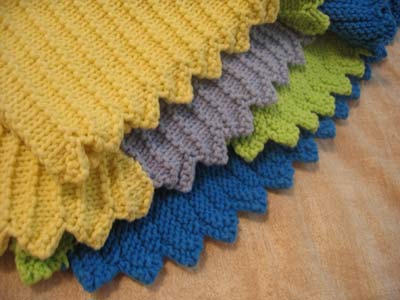 Spiral center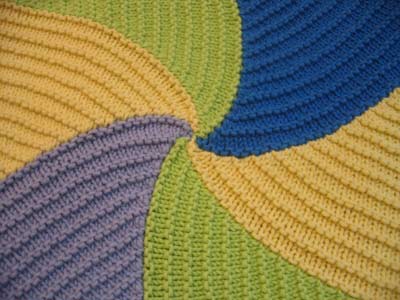 Color transitions (including the yellow-light blue transition, which was grafted)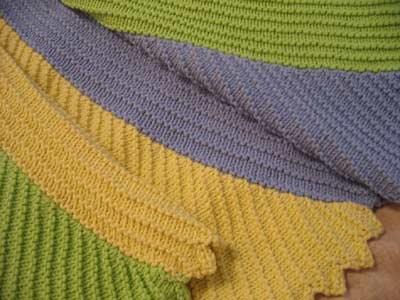 A sense of scale
Since I don't have a baby of my own, nor a stuffed animal or doll that could serve as a baby, I substituted the next best thing – a pillowcase stuffed with yarn wearing sunglasses to, you know, indicate where I think the head would go. (Shush! This is much better than my original plan to wrap my Dooney & Bourke bag in the blanket!)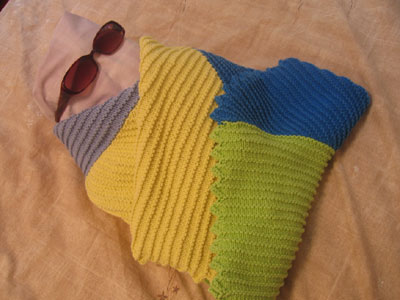 Gift tag
There didn't seem to be a good place to stick one of my typical custom labels, so I just made a nice tag. Yes, the artwork is a Grumperina original :).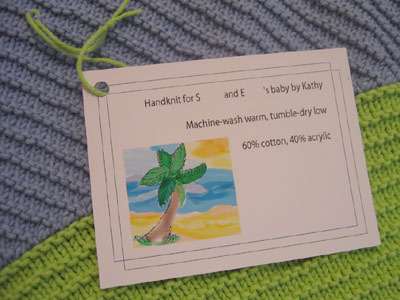 To make your own Grumpecue: (schematic here)
1. Buy Oat Couture's Curlicue pattern.
2. Using a provisional cast-on, CO 89 sts. Turn work, p89. Work Section One of the pattern until 20 scallops are formed on the outside edge (i.e., repeat rows 9-16 19 times more). Row 105: when making the 21st scallop, if you wish to switch colors, BO 4 sts with the first color, but knit to end while picking up wraps with the second color, and continue using it throughout the second section.
3. Work Section One as described a total of six times, switching colors on Row 105 if you desire.
4. When working the last section, switch to the color used in the first section for Rows 105 and 106. Remove provisional cast-on and graft the last and first rows together.
Yarn:
While I'm ultimately happy with the way the yarn looks and feels in the finished object, it didn't provide the best tactile experience while knitting. There were at least two knots or other imperfections in every skein, which led to a whole lot of unwanted ends, but that's only half the story. It feels like paper when you're knitting with it – stiff and dry and very unpleasant – and it seriously chafed my hands. Furthermore, all the colors differ in texture: the darker colors are softer and fluffier, but the plies separate very easy, while the lighter colors are stiffer and thinner. The dark blue bleeds like nobody's business, and I am grateful that June held my hand during the blocking/washing steps. With her coaching, I first tested colorfastness on a swatch, then machine-washed the blanket twice – first in hot water with Synthrapol, and then in hot water with Tide – followed by tumble-drying. Suffice it to say that although the sticker price is very attractive ($1.78/skein), I'm not sure I'd use it again for such a large project.
0
likes