I SO didn't want to show you the progress I've made on grandma's sock. I'm sort of embarrassed! In fact, I considered Photoshopping the shit out of the picture to obscure… well, to obscure those hellishly wonky stitches.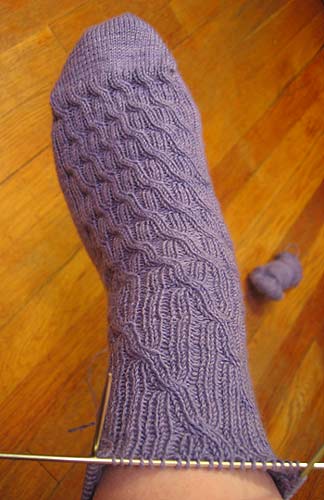 Without any doubt, I have frogged and reknit this sock more times than any other project I've knit. I think I'm in the double digits at this point! I frogged twice even after I told you last time I didn't think I'd need to frog again!
This is the equivalent of what I look like first thing in the morning – eyes half open, hair all out of place, pajamas on backwards, and once again I knocked over my drinking glass while reaching to turn off the alarm. Just not all there, you know what I mean?
The yarn which makes up the sock right above the heel is just tired – worn, split, fuzzed, wonked, crimped… you name it! The stitches are in desperate need of some blocking. AND, from handling this sock so much, it's already started to pill, and I'm not even done!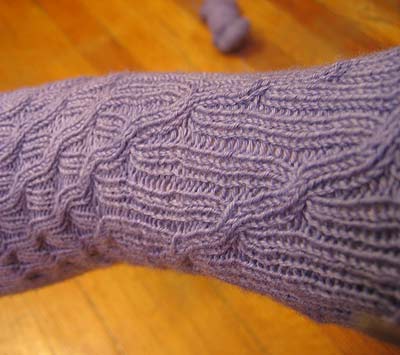 But lesson learned – lots of cables crossed all on the same row draw in the knitting for a tourniquet-like effect.
I would say that I think I finally got it, that perhaps I won't need to frog again, but I'm not even going to go there.
In other news, do you notice anything different about my Niddy Noddy? (For reference, here's what it looked like a week ago)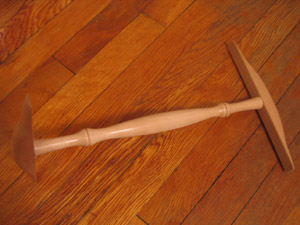 Shiny!
I'm so glad you all knocked some sense into me! I was being silly and not thinking straight – of course I have to finish and seal that wood, or every dirty fingerprint and non-colorfast yarn is going to ruin my new toy in no time!
I received lots of suggestions, and decided to simply coat it with some polyurethane – semi-gloss, water-based, and clear.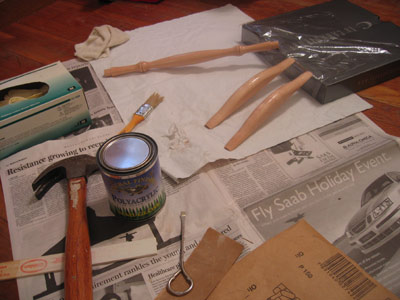 Other than occupying valuable dancing space for two days (hehe), the process was entirely painless. I didn't use the best brush, though, and despite picking off all the loose bristles I noticed, two ended up getting lodged under one of the four coats I applied. Oh well, small beans.
0
likes