When I knit the body of my Adrienne Vittadini sweater, I changed everything. Some of the more critical changes: I am knitting a size between two sizes, my yarn knits at a different row and stitch gauge, and I changed the location of where the lace panel of the sweater starts (click the link in the previous sentence to read all about it).
The lace is made up of two elements: a column of cables, and a column of peak-shaped groups of stitches. When I reached the point of starting the lace on the body of the sweater, I rather arbitrarily decided to center a cable and work from there.
Then the Maths came for a visit. As I was starting to rework the pattern for the sleeves (which are, again, knit from a yarn with a different tension than the pattern's), I realized that I'd have to plan very far in advance if I wanted the two elements to match at the raglan sleeve. Illustration: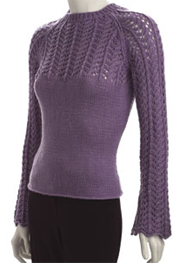 You see how the ridges (made by PSSOs, by the way) match up nicely? Imagine how awful it would look (at least to me) if the ridges didn't match up?
Well, in order for the cable and peak-shaped elements to end at exactly the right locations, they have to start at exactly the right locations way back down there where the cuff is.
Then things continued to get even more complicated. Let's see if I can explain this without making you woozy. Skip if you wish, I don't blame you.
The gauge changes from 23 sts in stockinette to 27 sts in the lace pattern. So in the body of the sweater I increased a number of stitches right where I switched to the lace. Now I needed to mentally and mathematically backtrack down to the start of the raglan as if it were entirely knit in lace (like the sleeves are). That's the only way I'd know how to work the sleeves to match up with the body of the sweater. This complicated math, I think, is the reason the designer switched to the lace two rows before the raglan shaping. That way the entire raglan section, body and sleeves, is worked in the same stitch at the same gauge: much simpler to do the math and make things match up.
So, did I succeed in my math calculations? Ya! It is the Grumperina way!
In case it's not immediately clear, here I mark up the cables and the peak elements:
(Colleen, I made this using Illustrator)
Such a little thing, but I just had to do it. Just point me in the direction of the loony bin, I'm ready to check myself in.
0
likes
Reader Interactions