The bad:
Kathy,
Thanks so much for your submission! It's really creative, but unfortunately, not right for Knitty.
I thank you for taking the time to prepare it and send it in and hope we'll see something from you again in the future!
Best,
Amy
[editor, Knitty]
http://knitty.com
The good:
Now I get to share this pattern with all of you! Give me a few weeks because I've made the pattern even better than before and need a bit of time to knit up another sample, but soon there will be a goodie here for everyone to try. Stay tuned!
The ugly:
There is no ugly! Check out how cute Egle and I look in our matching Backyard Leaves scarves: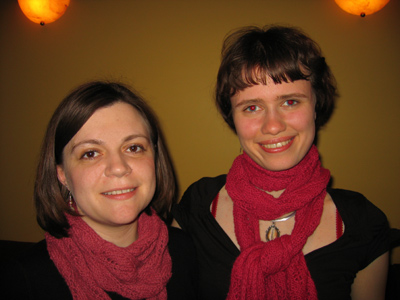 Egle is really tall, just in case you're starting to think I'm 4'5″. In spirit of complete honesty, I have no qualms admitting to you that I retouched this photo lightly to spare you the glare of my enormous forehead. If you want an example or retouching gone way too far, take a look at your next Victoria's Secret catalog, and look at the models' armpits. Their retouching specialist just has no idea about armpits because those girls look like they have way extra skin in there. Perfectly smooth skin, but too much of it nonetheless.
Stay tuned for my rejected Knitty pattern!
0
likes