I'm sure all of us have found knitting relaxing and tension-reducing. Otherwise we wouldn't keep doing it!
I am having some major issues with the Vintage Pink Cardigan. Ever since I realized that I had messed up on the shaping and would have to frog the two fully completed front panels, I can hardly stand the sight of it. I think I have worked a whopping two rows since then. I haven't ripped the fronts, and I'm not sure how I'm going to get myself to do it. I realized that I needed some other knitting for a bit to take my mind off the inevitable.
Enter Vivan Hoxbro's Shadow Knitting
. What a clever idea! The technique is basically very clever variations on a two-tone garter stitch background to form ridges of light and dark color. When viewed from some angles, the pattern forms horizontal stripes; when viewed from others, there are vertical stripes. Alternating the basic patterns forms checkers and triangles and other illusions. And you know I was immediately drawn to the book because it has complicated charts like this: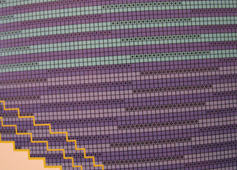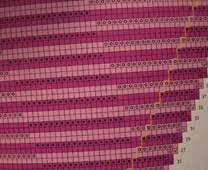 I love a good challenge! The hardest part about shadow knitting was figuring out how to make the nifty border (tip: twist the two yarns before slipping the first stitch).
I decided to knit the most basic project, a simple potholder. And here's what I did in my frustration. I took some worsted-weight cotton and using US 4 needles knit it at a whopping 23 sts/4 inches. So tight! It allowed me to grind my teeth, and for my palms to sweat, and a few curse words here and there, and I feel so much better now. So much more relaxed.
And here are some photos of the potholder. I tried to capture how it looks from different angles: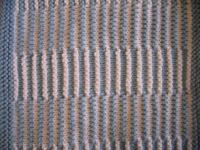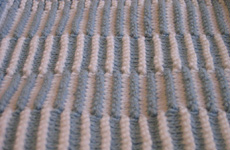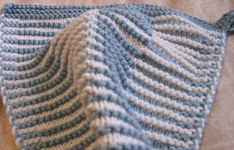 The wrong side of shadow knitting also looks pretty cool, like garter stitch with some interest: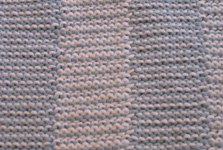 Well, I'm off to Home Depot. That's right, Grumperina goes to local yarn shops and Home Depot :).
0
likes