There is a wonderful word in Russian, 'tricotage.' The root is French: tricot means knit. In Russian, 'tricotage' refers to a fine knit fabric, such as the stuff used to make t-shirts. More often than not, 'tricotage' is cotton, very stretchy, and your sewing machine's worst nightmare.
I bought a long-sleeved shirt made out of 'tricotage' some time ago. Although its sleeves were three inches too long (you can see that on the mannequin) and it had an awkward ribbon tie in the front, I really liked the way it fit, so I decided to keep it and do some alterations. Oh, and it was on sale, that helped matters :).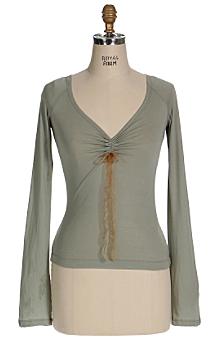 Here is where the sleeves came to when I bought the shirt: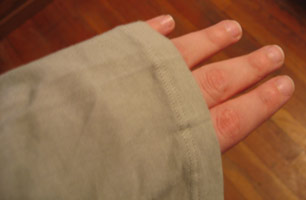 Pretty ridiculous.
My mom is a great seamstress, and my mom's uncle is a professional tailor, so I've grown up around fabric chalk and taking measurements and fancy sewing machines. However, I haven't used any of that equipment. Until now. Fabric chalk and brand new gingher scissors* in hand, I got to work.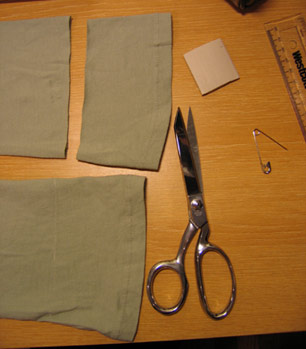 Sewing tricotage on a sewing machine is not trivial at all. It's very stretchy and it's therefore very easy to pull it too much when feeding it into the sewing machine. Plus, the sleeves of this tee are bell-shaped. Plus, I've used the sewing machine only once before (I still take out the manual to figure out how to thread it – yikes!). I will fully disclose that I had to baste the fabric into place and that it took me more than one try to be satisfied with the result, but I did it!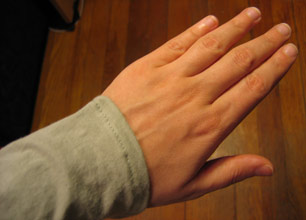 Ahh, the length is much better. And here's what it looks like on the inside – you can see the two rows of stitches: I made one small fold, then stitched, to secure the fraying, and then a bigger fold (followed by stitching) to make the edge.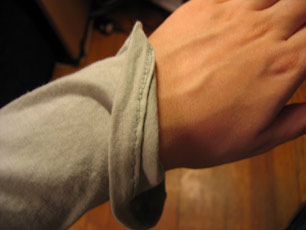 I took care of the ribbon tie by hand, leaving a small part of it in for scrunchiness, but sewing the openings shut and cutting the extra. Here's a photo of the finished product, modeled by yours truly (a little fuzzy, sorry):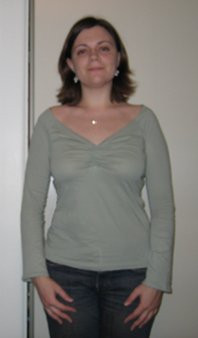 The first time I used a sewing machine it was to sew thin plastic to handknit fabric. And now tricotage. I really don't take the easy way out, ever :).
*The gingher scissors were a New Year's gift to myself. I got tired of using Fiskars, especially considering my pair is blunt, blunt-ended, and meant for cutting paper. I couldn't believe how sharp and smooth the ginghers were. I liked the full-metal construction and the feeling of weight in my hand. Wow. Talk about nice scissors!
0
likes