As though I don't have enough planned…
Kristina brough the new copy of Interweave Knits to knitting group tonight and of course another work in mind has formulated in my head. Interestingly, the first thing that I noticed in the magazine was the advertisement for the new Adrienne Vittadini pattern book, but I'm not buying any more of her patterns until I make one from the pattern book I already have – let's see how well they fit me. Anyway, this also caught my attention: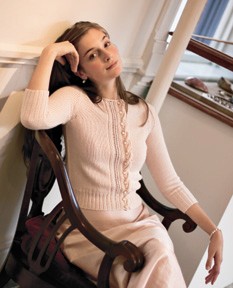 The pattern is called Vintage Pink Cardigan, and it's knit in light worsted/DK alpaca/silk blend.
Okay, it's gorgeous.
Here's the thing: I know I'd have to modify the pattern right off the bat. Cardigans never fit me because they come apart at the bust, so I'd either have to make extra increases or make short row darts or something. I would also consider making the sweater as is, and sewing the opening shut. This is what I do for all the blouses I own. What makes me even more doubtful is that this sweater, more or less, has an intricate design running vertically down the middle. I do not own any sweaters which are designed this way, so I have no idea whether this style would go to me. I know, I know, I should get myself to Macy's and try something like this on, then decide whether this project is worthwhile. And it's not like I don't have plenty of other works in mind!
0
likes