Betsy was talking about the Clapotis* and said that it's one of these patterns that is just so well-thought out and carefully designed, making it truly outstanding. I completely agree with her about the Clapotis pattern, and think that Backyard Leaves by Annie Modesitt is in the same truly outstanding category. Just everything about the design is brilliant – from the way the leaves run in opposite directions, to the smooth waves the edges form, to the nifty pointy ends of the leaves. In fact, I'll be making another one of these scarves immediately**.
Tada!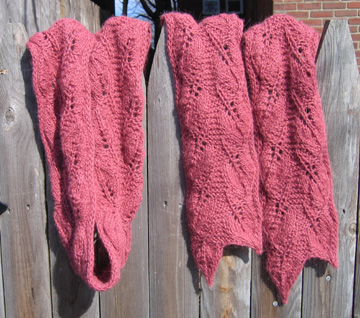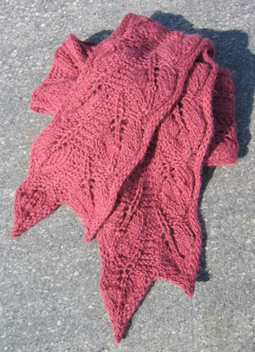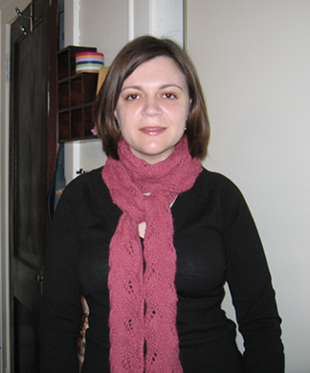 That's me, sporting my new scarf.
I used the entirety of 4 skeins, and my Backyard Leaves ended up being 4 1/4″ wide by 90″ long – that's enough to wrap twice around my neck and have plenty left over to tie in the front. The pattern (which uses a slightly thicker yarn) makes a scarf that's 5″ wide and 78″ long, for comparison.
I love it!!!
Some more comments are on my knitting webpage.
*I am still determined to NOT make a Clapotis. I will live vicariously through the hundreds (literally) of Clapotis knitters out there.
**The second Backyard Leaves scarf will be identical to the first, except I will use the raspberry color of elann's 100% Peruvian Collection alpaca, and I will give it as a gift to my friend Egle.
1
like