Now that grandma's socks are done, but I'm still researching the yarn for my Adrienne Vittadini sweater, I'm working on another exciting project.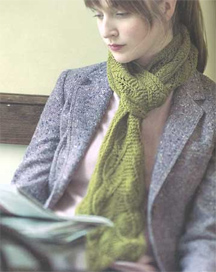 I first spotted the Backyard Leaves scarf when I borrowed Scarf Style
from the library. It didn't make a big impression on me at the time. Then I saw a sample scarf knit up at Woolcott, a local yarn shop, and was very impressed with the intricate design. I requested the book again from the library, ordered some yarn, and got started on Sunday.
The yarn I'm using is 100% alpaca from elann.com. It is sleek, slick, a little fuzzy, and unlike wool, not very stretchy. It reminds me of angora a lot, except not as itchy (I'm mildly allergic to angora). I picked out two colors, antique rose and raspberry, with hopes of keeping one and returning the other. However, I liked both colors so much that I decided to keep 'em both.
On Sunday I asked some fellow knitters which one would suit me better, and the group voted 'raspberry.' So I went ahead and cast on with the antique rose because despite their vote I realized that's the one I wanted to use :).
Working with this yarn is wonderful. It is so soft and buttery. It has great stitch definition, more defined than wool, I'd say. After working two repeats of the pattern, I think this alpaca will work well for the pattern.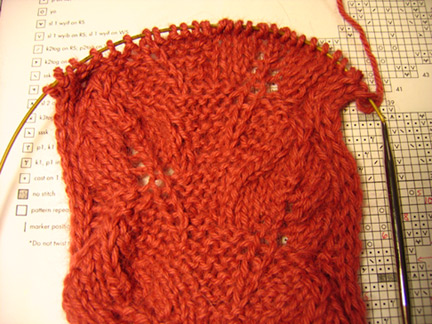 The pattern is complicated (16 different types of stitches are used), but not impossible. It has the most clever little border formed by a combination of slipped and knit stitches – compact, firm, very neat. Here's a close-up of one of the leaves: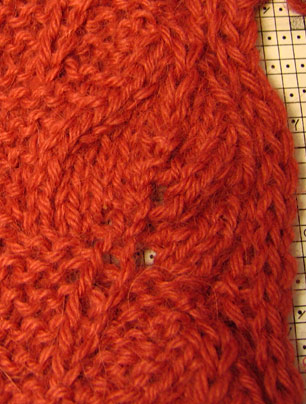 I think this will be an enjoyable project while I mull over yarn selection for the sweater :).
0
likes