I've eyed me a sweater. I've made several baby sweaters, but this will be the first adult-sized sweater, and it will be for me! I saw an ad for the Fall 2004 Adrienne Vittadini pattern book, and fell in love with the one on the cover: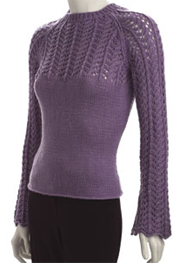 Isn't it pretty? I see only one modification I'd like to do: I want the lace to start approximately at armpit level.
The yarn used for the pattern is, of course, Adrienne Vittadini brand, called Martina. Martina is 70% merino wool and 30% silk, 11 wpi, 19 sts/4 inch on US7. One ball has 50 grams, 109 yards, and costs more than my rent… I mean, $15. I need 11 balls to complete the project (11 x $15 = $165). Ha! Not a grad student's stipend.
I am soliciting suggestions for an alternate. I already have two in mind, but I won't bias you. I would like the replacement yarn to be the same gauge, and either 100% wool or a wool blend (alpaca, cotton, silk, synthetic is fine; mohair and angora are no good). Lavender doesn't look good on a pale person like me, so I was thinking of making the sweater crimson/garnet/cranberry. Oh, and less than $80 would be great :).
I eagerly await your suggestions :).
0
likes