Two skeins of Madelinetosh Tosh DK are needed to knit the Little Tourist Poncho, so I knew I'd need to alternate or stripe the two skeins – sometimes they can knit up remarkably differently!
When I was knitting the poncho's placket, which is knit flat, I switched skeins every 2 rows by carrying the yarn up the side of the work. I made sure that the side of the work with the yarn carries would end up on the inside of the placket, though it looks quite neat and would look fine on the outside, too.
Once the placket is done, the work is joined in the round. Rather than alternate the skeins every 2 rounds and carry up the unused yarn, I decided to spiral the skeins! (Sometimes referred to as helical or barberpole knitting; check out TECHknitter on this topic, too.) At a designated spot, I simply drop the working yarn, and pick up the yarn below it to work the next round. The two skeins are alternated on every round as a result. I put the designated spot at the border of a purl and knit section, so any tension imperfections are hidden.
These are the 2015 Christmas balls: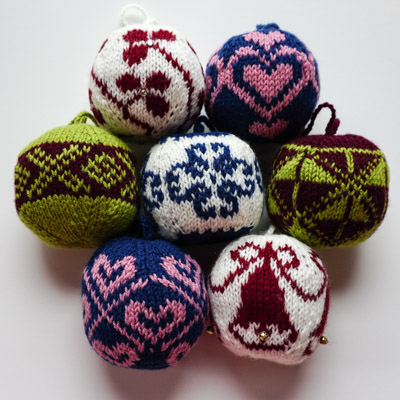 Pattern: 55 Christmas Balls to Knit by Arne & Carlos. Very conveniently, just around the time I was making these balls, Arne & Carlos posted a Christmas ball tutorial, which helped me tremendously in the finishing aspects.
Yarn: Rauma 3-ply Strikkegarn in a variety of colors – leftovers from our family's handknit Christmas stockings.
I threw in some bling for the last 2 balls I knit (the white and dark red ones) – one has little Swarovski crystals which are glued on, and the other has teeny jingle bells.
Needles: US3 Clover bamboo dpns and 3.25mm crochet hook for the chains.
For displaying these, we strung a ribbon across the decorative windows in our dining room, and hung the balls on it.

As you can see, there is plenty of room left over for more balls – I'm hoping to knit a handful every holiday season!