©2006, www.grumperina.com, copyright details at bottom of page.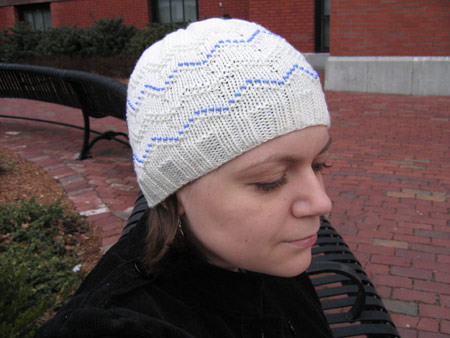 I have many wonderful memories growing up on the coast of the Black Sea: the grains of sand were always the perfect coarseness, the water was always the right temperature, the sky was always the perfect clarity. Sometimes my mom would let me swim out far and dive deep to look at the hermit crabs; life was on hold at that moment, as it could only be when I was surrounded by the waters of the Black Sea.
Naturally, when I designed a hat with a wave motif, I had to name it after my favorite body of water. The waves flow out of the ribbing and are created by beads as well as purl stitches – texture and color at once. The crown of the hat is gathered so it ripples lightly.
Difficulty level: intermediate.
Finished size: 17″ / 43 cm (18″ / 46 cm) in circumference and 6.75″ / 17 cm (7.5″ / 19 cm) in depth unstretched.
The smaller size will stretch to fit a large child or small adult head (20″ / 51 cm); the larger size will fit a medium/large adult head (23″ / 58 cm). Before selecting a size, please take into consideration how snugly the wearer likes her hats.
Materials:
Debbie Bliss Baby Cashmerino (55% merino wool, 33% microfiber, 12% cashmere): 1 (2) skeins #101 off-white.
208 (224) size 6/0 beads (please refer to this post for beading information)
US 3 / 3.25 mm 16″ / 40 cm circular needle
US 4 / 3.5 mm 16″ / 40 cm circular needle
US 4 / 3.5 mm double-pointed needles
tapestry needle, stitch marker
Gauge: 24 sts and 34 rounds = 4″ / 10 cm in hat pattern, knit circularly on larger needles.
Abbreviations: BK1 – knit a bead into a stitch. Insert the needle into the stitch to be knit as usual, slide a bead close to the needle, and pull the bead through to the front as you complete the stitch. The bead should sit on the right leg of the knit stitch "V."
Pattern: Before you begin, string 208 (224) beads onto the yarn. As you knit, gently move them towards the other end of the ball as needed.
Using smaller needle, CO 104 (112) sts. Join into round, being careful not to twist stitches. Place marker. P1, k2, p3, k2 all the way around for 1 1/8″ (2.9 cm). Switch to larger needle. Work rounds 1-17 of chart twice (34 rounds total), placing beads as needed. Knit even until work measures 5.5″ / 14 cm (6.25″ / 16 cm) from cast-on edge.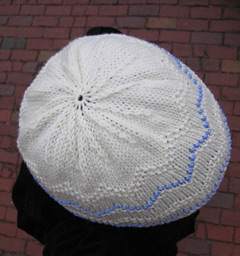 Begin hat decreases (switch to double-pointed needles when there are too few stitches to stretch around the circular needle). Repeat each line of instructions for the entirety of one round.
Ssk, k6; 91 (98) sts rem.
Knit even.
Ssk, k5; 78 (84) sts rem.
Knit even.
Ssk, k4; 65 (70) sts rem.
Knit even.
Ssk, k3; 52 (56) sts rem.
Knit even.
Ssk, k2; 39 (42) sts rem.
Ssk, k1; 26 (28) sts rem.
Ssk; 13 (14) sts rem.
Cut yarn, leaving a tail. Thread the tail through the remaining stitches, pull the hole closed and weave the tail on the inside of the hat.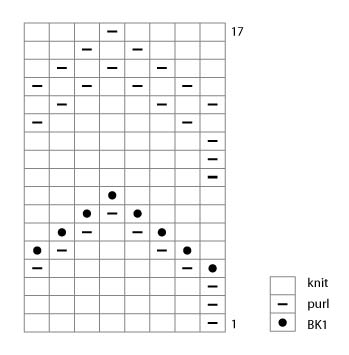 Copyright information:  1.  Contact me (grumperina@gmail.com) with all
questions pertaining to the copyright.  2.  This copyright notice must remain intact on every printed pattern.  3.  You may use this pattern for your personal fiber pursuits as long as no profit is made from distribution of the pattern or the finished hats :).