Although Sonya has a whole collection of bonnets and sunhats, when some friends made Baby Sunbonnets from the Purl Bee, I couldn't resist making one for Sonya, too!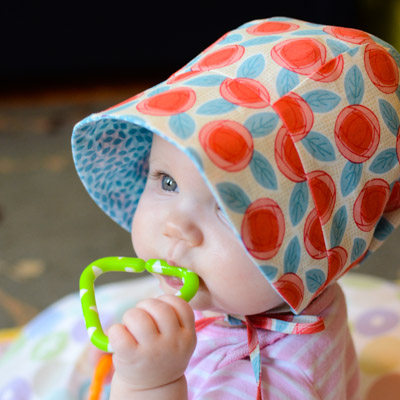 Pattern: Baby Sunbonnet from the Purl Bee, 6-12 months.
Fabric: The outer fabric is from the Backyard Garden collection by Cloud9 Fabrics. I really liked working with this fabric, it's nice quality. The lining is just a quilting fat quarter I picked up at my local Joann's that matched really well.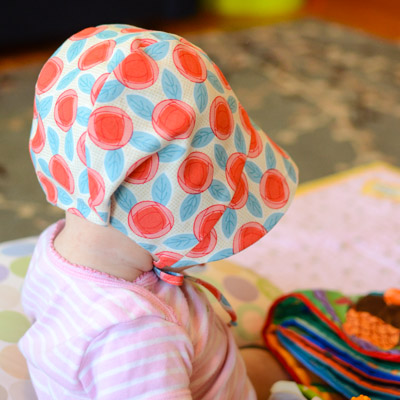 The tucks make the bonnet nice and snug.
After finishing Sonya's bonnet, I also made one for a little friend! For this one, I sewed the 3-6 months size.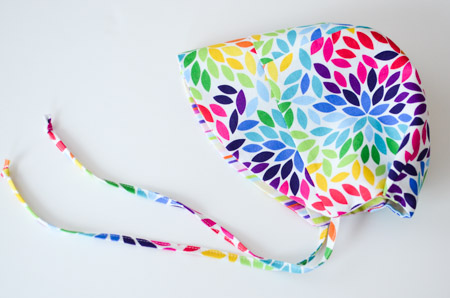 Fabric: both the outer (Multi Petals) and the lining fabrics are just bolts of "house" fabric at Joann's. The outer was a little flimsy for my taste, although it's a fantastic print. I fussy-cut all the pattern pieces to center the various color bursts. The inner is striped – I really liked the idea of seeing stripes peeking out around the baby's face. Unfortunately, Sonya is too big to model this bonnet, otherwise I could show you the effect.
Look at my big girl in her bonnet!