Thank you to everyone who participated in this giveaway, and to Regia for their fabulous customer service! The contest is now closed, and the winner has been notified by email. If you didn't win, but still would like a skein of this fabulous yarn, head over to WEBS (which is where I bought my original skein). Happy knitting!
In response to my Instagram post of the Regia 6-ply chimera-skein, the wonderful folks at Coats, the U.S. distributor of Schachenmayr Yarn, immediately contacted me, and I had a replacement skein in my hot little hands today!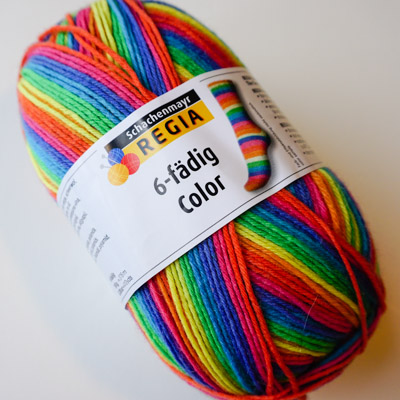 Don't you just love amazing customer service? I do! Thank you, lovely folks at Coats, for your prompt response!
I only needed a tiny bit of rainbow yarn to knit a small pair of socks for my kiddo, and there was plenty of yarn in my chimera-skein for that, even with the differently-colored middle. So, I've decided to share the good will, and share this rainbow happiness with a reader! If you'd like a chance to win this skein, simply leave a comment on this post before Thursday at 9 p.m. EST! Full giveaway rules here. Edited to add: the contest has been closed, and the winner notified by email. Thank you for participating!