A few have noted the updated header image on my blog – it is none other than my Volna pattern, knit in the gorgeous Noro Kirameki. I loved knitting lace with Kirameki, feeling the slightly textured yarn, watching the colors shift before my eyes. Kirameki is now discontinued (sad!), but Noro continues to delight us with a fabulous yarn lineup. If I were to knit a Volna today, I would love to try Taiyo Sock yarn.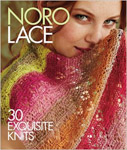 Are you also dreaming of knitting some lace with Noro? You might be interested in checking out the new book, Noro Lace. This collection of 30 patterns features mostly accessories – scarves, shawls, and cowls – knit using various Noro yarns. There are patterns using laceweight yarns, like the Infinity Scarf knit in Taiyo Sock, medium weight yarns, like the Buttoned Wrap knit in Shiraito, and heavier yarns, like the Tilted Blocks Scarf knit in Taiyo Aran.
(Click on pictures to view bigger.)
The pattern which I like the best is the Short Row Shawl knit using Silk Garden Sock. I am intrigued by the construction, and love the way the lace enhances the color transitions.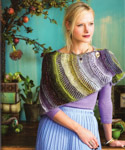 See below for some other patterns which caught my interest. Looking at these makes me want to get my hands on some Noro and knit with it again; I really enjoyed doing so for the Volna pattern, and would love to experience knitting with Noro again!