For a long time now, I've thought about the best way to use up some of sock yarn scraps that I've collected over the years.  The idea of a blanket – one made of smaller strips or squares – appealed to me, because it would be conveniently portable on the train to and from work.  I bookmarked a few patterns on Ravelry, including Bear's Rainbow Blanket, Pathways Blanket, and Triangles, Diamonds, & Squares, Oh my!.
At the end, I decided to give the Triangles, Diamonds, & Squares, Oh my! a try.  I knew I had a lot of neutrals in my stash, so they would serve as the main color.  Various other colors, whatever I happened to grab, would be the contract colors.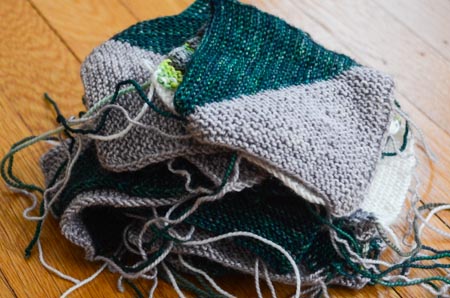 Happy little pile of happy little squares.
The square are worked using short rows, but the pattern doesn't give any explicit directions for making and picking up the wraps.  As we all know, the most invisible short rows of all are detailed in Cat Bordhi's New Pathways for Sock Knitters
 (in my opinion, at least).  For this particular project, however, I decided to work a variation that would allow a visible seam on one side of the squares.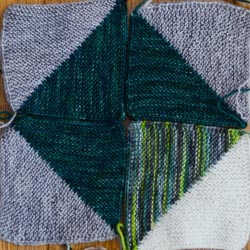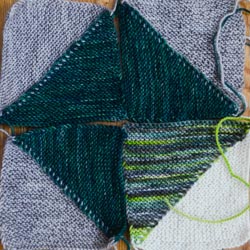 I can't decide whether I like the totally squeaky clean side (left) or the side with the visible wraps (right) better.  What do you think?  What project are you knitting or crocheting to use up your sock yarn scraps?
0
likes