August was filled with travel, family, and home improvement emergencies – and not a whole lot of knitting/crafting. But here, at the onset of September, I find myself with five concurrent projects, knitting, crochet, and sewing. And three of them have deadlines!
Today I'm going to tell you about a sweater I'm knitting for a friend's son (as a favor).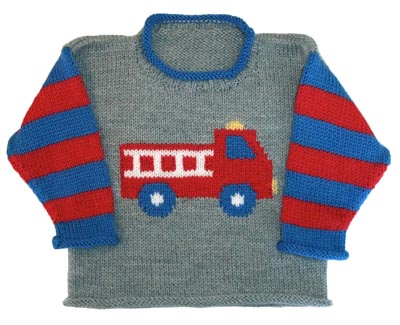 This is the Fire Truck Roll Neck by Gail Pfeifle of Roo Designs. Not something I would have chosen to knit of my own accord, so all the better that it came across my lap – I see it as a chance to use some long-forgotten skills, like intarsia. I am knitting the 6 year old size. I am using Cascade 220, which is a great yarn for intarsia, because it blocks beautifully.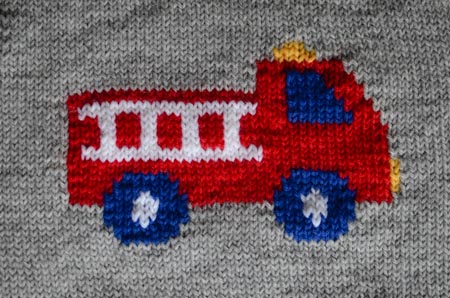 This is with all the ends woven in and trimmed, but before blocking. I am hoping the design looks even better after blocking! Following my previous experience with the buffalo sweater, I plan to steam block the fire truck design before seaming. In fact, I might steam block the whole thing (as pieces, before they are seamed) rather than the dunk-in-water method.
I am modifying the pattern to have set-in sleeves. To be honest, I had some trouble making this modification at first, mainly because I haven't knit for "big" boys before and don't have a good sense of scale, amount of ease, etc. Websites listing "standard measurements" were all over the place for this age group. Then, I finally came across a long-forgotten book in my knitting library: The Rowan Story Book of Little Knits. This book has some lovely patterns for children 3-10 years old. One pattern in particular, Jay (click to view), is working perfectly as my guide for set-in sleeves: the 5/6 size of Jay has the same chest circumference and length as the 6 yr size of Fire Truck. The yarn gauge is also identical. So, I'm basically following the shaping instructions of Jay together with the design of Fire Truck. It's working beautifully!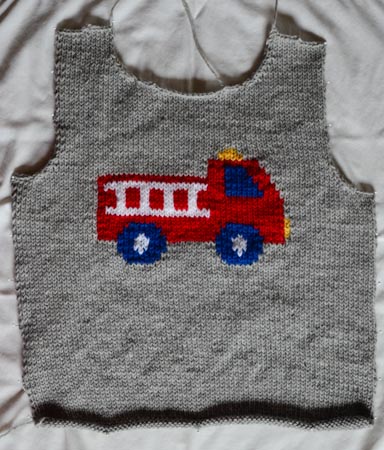 A picture of my toothy boy and his mama: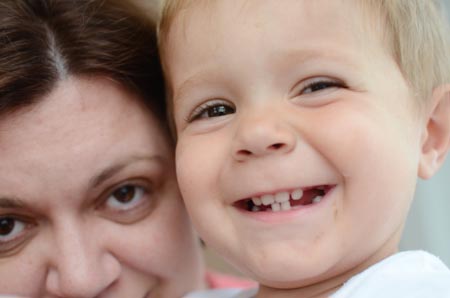 3
likes