With the end of summer in sight, I've been itching to undertake some new projects. My mind has been wandering in the direction of lace, shawls, and crochet. To that end, I have:
Purchased two skeins of lace yarn from Sundara Yarn (one skein of lace silky merino in Earth Studies #198, and one skein of silk lace in Fire Studies #118).
Started a new shawl from Knitted Lace of Estonia by Nancy Bush, the Lehe Square Shawl, using the lace silky merino skein mentioned above.
Started a crochet project as well, the Alpine Frost Scarf from The Best of Interweave Crochet, using a merino/tencel fingering weight from the stash.
But more about that later. What I think I really want to make is something which combines all three: lace, shawl, and crochet.
I've been browsing Ravelry, looking for just the perfect thing. This reminded me of my friend savannahchik knits Jody, whose blog I've been reading since… probably 2005, when I first learned to knit. Jody does these fabulous Ravelry roundups on her blog. She searches Ravelry for new-to-her designers, or interesting types of patterns, or techniques, or yarns, finds a small collection, and writes about them on her blog. I enjoy her posts very much: they always showcase something or someone new to me.
I wanted to share with you the patterns I've gathered in my quest for the perfect lace + shawl + crochet project, similar to the way Jody would do.

These three shawls (are they not amazing?!?) were designed by Bernadette Ambergen on Ravelry, a new-to-me designer. They are Wisteria, Miitu, and Oswim, from left to right. These shawls look pretty complex to me, and I think this fall I'm ready for a challenge!

These three shawls are all by different designers. From left to right, they are: Fantasm by Cheri McEwen, Maia Shawl by Lisa Naskrent, and Venus by Aoibhe Ni. I am intrigued about how shawl shaping is accomplished in crochet versus knitting, and any of these would be a great way to learn.
What do you think about these 6 choices? Are there other crochet lace shawls that are worthwhile noting?
To end, here's my sweet boy, 26 months old, rocking some headbands.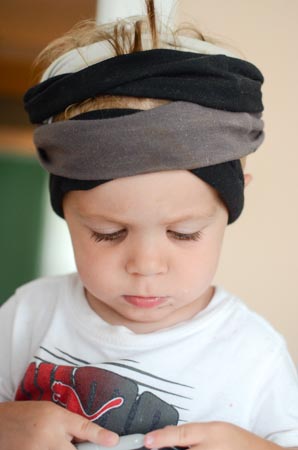 0
likes