I made one of those cut chenille baby blankets, and it was awesome! (despite many fumbles)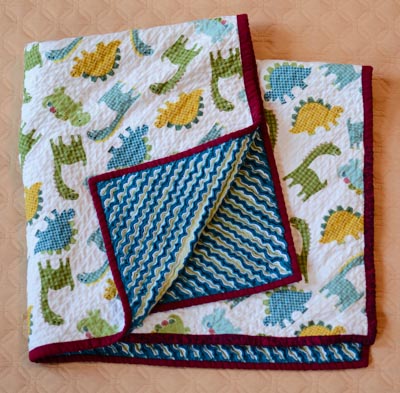 Pattern: Cut Chenille Baby Blanket from aesthetic nest, but there are other tutorials available for the same thing.
I didn't make rounded corners.
I did use the fancy Olfa Chenille Cutter, which was really great! I thought one section of the blade would last me through this entire project, but found that I had to use two sections to get through all the cutting in this blanket.
I found it absolutely essential to use a walking foot in this project. Knowing that flannel is quite sticky, I stitched the first few lines without a walking foot. This was a mistake, but one I learned very quickly, fortunately.
Fabric: My shopping time is measured in nap-hours nowadays, and the recipient is due to be born any day now, so a quick trip to my local Joann's was the best I could do. I would have preferred a more modern, bolder main fabric, but dinosaurs are still in, right? The flannel is teal, white, and light green. The binding is a solid Kona cotton turkey red, plus some remnants from this project.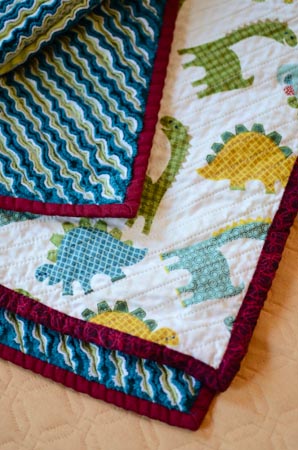 I didn't mean to use two separate fabrics for the binding, since the blanket is not really patch-quilty, but due to some creative off-grain cutting by the staff at Joann's, I had no choice but to dig through my fabric stash-ette and pull out something that would match the Kona solid (translation: I should have bought more than a quarter of a yard, with the assumption that some would be lost in the process of cutting on grain).
For the binding, I followed this machine binding tutorial from cluck cluck sew, except I first attached the binding on the wrong side of the blanket, and then wrapped it around to the right side. I definitely found this part of the project very tricky, but I think the final product is passable if you don't look too close.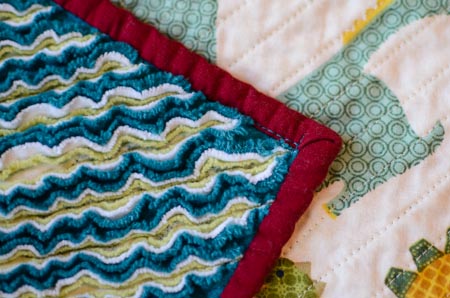 Finished size: about 31″ square. This was my biggest fumble. I was aiming for a 36″ blanket, and clearly that didn't happen. I bought a yard each of the three flannels, but when I pre-washed them, they shrunk to 32″ in length! I had no idea flannel would shrink this much. After sewing and squaring off, the blanket lost another inch on every side. I would definitely buy more generous cuts in the future.
On the plus side, the blanket is so very soft and beautifully textured. The mom of the baby-to-be absolutely loved it!
0
likes