Just a quick post to show you what I'm knitting next: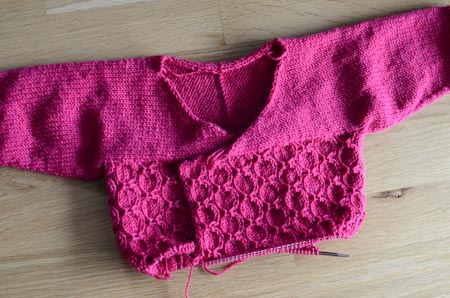 This is the Temari Kimono Jacket from the Scrumptious Baby Collection, published by Fyberspates Luxury Yarns, designed by Kyoko Nakayoshi. I poked around the web, and found that the cheapest and most convenient way to purchase this pattern for me was to buy the book on Amazon. I am using Louet Gems sportweight in #26, crabapple. I've used this yarn tons before, and this particular color as an accent here and here.
I just loved this little sweater from the moment I saw it, and instantly had just the right recipient in mind. The construction is not trivial, but clever, which is always a win for me. The only HMMM moment I've had so far was about grafting down the center back. As you can see, I chose a three-needle bind-off to join those pieces together, because grafting caused a half-stitch step that showed when the bodice was picked up. But of course the three-needle bind-off shows, in and of itself, but at least everything lines up perfectly. Which option would you have chosen?
0
likes