The whole family went this year!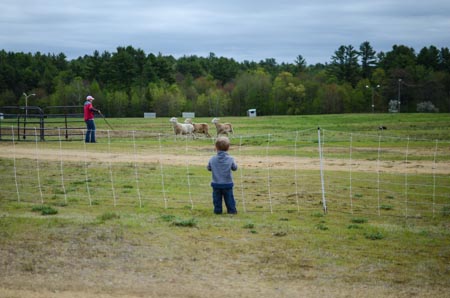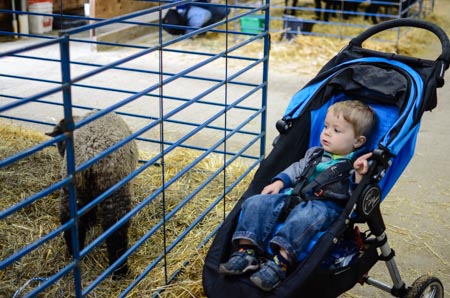 We had a great time, even though I bought zero yarn (I really stocked up at the Windsor Button closing sale, and feel like I need nothing) and Gregory was somewhat hesitant about the animals. The location – just a bit over an hour away from us – is perfect for a half day trip, and the grounds were really nice. Some great vendors, too!
On the knitting front, I have two successes and one failure to report.
First, I am nearly done with Budgie, the third. The knitting is done, and the ends are woven in.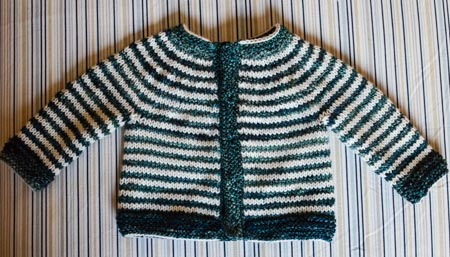 The buttons are picked out.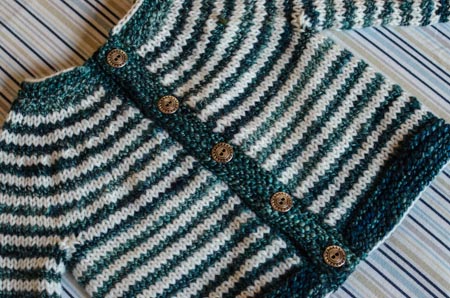 Now only to sew on the buttons and block.
Second, I started another baby sweater, Sunnyside cardigan by Tanis Lavallee. It's a lovely, simple pattern for a basic baby sweater.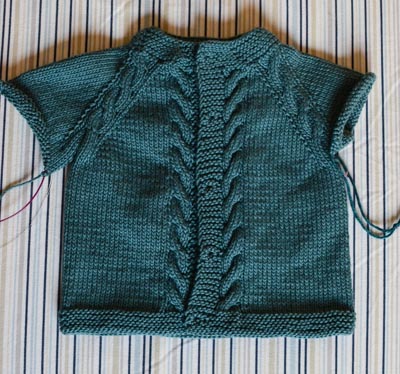 I am using Gedifra Florida, a discontinued yarn I got eons ago on elann.com. On the plus side, the yarn knits up into a lovely fabric on US 3 needles, and it's wool-free! On the minus side, it is SO splitty! I'm sticking with it, though, I like the color and the way it knits up. I'm going to be done with this sweater very soon.
The one failure I have to report is with respect to my grandma's socks. I picked a pattern – Anniversary Socks by Nancy Bush in Favorite Socks
, but the lack of symmetry in the lace motif was bugging me, plus the socks weren't coming out wide enough. I picked a yarn – a gray one from my stash. I picked it because it was already wound. My yarn selection process is so rigorous nowadays, haha! It's hand-dyed, but I'm not sure of any other details. In any case, the yarn is terribly splitty and kind of stringy. So I'm back to square one.
I've actually been thinking of reknitting this pattern, Traveler's Stockings, because I really enjoyed knitting it (and remember this 6.5 years later!), it worked from the first try, and I know my grandma gave away that sock pair to my great aunt. I'd even use some Lorna's Laces Shepherd Sock to guarantee success. With so many sock patterns out there, it feels like a cheat, but sometimes you want a sure thing, know what I mean?
0
likes