But before I get there, let me share with you the Potholders I received in the 2013 Potholder Swap! (on Ravelry, on Flickr)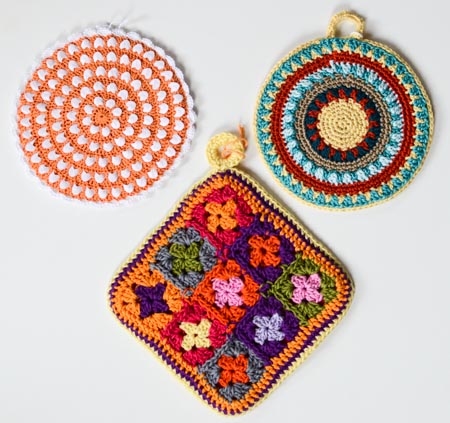 Gorgeous, right? The one with the ric-rac was crocheted by yarnbee Cheryl, and has got to be the fanciest potholder I've ever seen. I understand that Cheryl is writing up the pattern, which is awesome, because I've been trying to deconstruct how exactly she made this for days. The other round potholder was crocheted by the fabulous NJ Stacie – I always shy away from patterns which have so many different colors, and I'm so glad Stacie doesn't ;). And the square potholder is by none other than Maryse! I love her adaptation of the granny square, and, again, all the colors!!! Thank you so much, ladies!
My own potholders ended up with melseyknits Melinda, Maryse, and… I don't know who got the third ;).
I love this swap, and would participate again in a heartbeat!!!
– – – – – – – – – – – – – – – – – –
As for the title, it's baby season, as we all know, and the logic is simple:
Baby season => baby sweaters => small amount of yarn => handspun stash => combine with a solid to stretch the yardage = Budgie!!!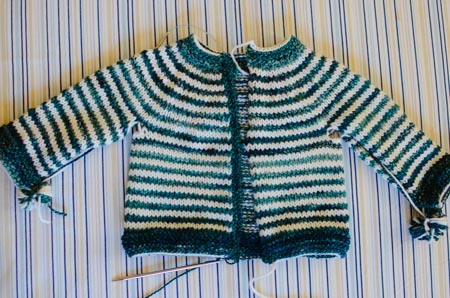 This time I'm combining some Blue Jellyfish handspun from Pigeonroof Studios (80/10/10 superwash merino/cashmere/nylon, 170 yards of DK/worsted weight, purchased 4/12/2010 – yay for using up stash!) with Berroco Vintage #5101 (mochi) (left over from knitting the Preppy Cardigan, more stash!).
As soon as I started knitting this sweater, the stripes came across very nautical to me, even though the Blue Jellyfish colorway is more of a teal than a blue. I even considered adding a shawl collar or one of those square-ish collars you find on sailor uniforms. However, eventually I decided to leave the neck opening as is, knit a button band instead of a zipper band, and add some nautical silver-tone buttons (not yet purchased). I think the sweater will come out very cute! Stay tuned for FO pics!
0
likes