When I heard that there would be a Potholder Swap 2013 (on Ravelry, on Flickr), I could not resist joining. Sure, I'm absolutely swamped at work, my toddler keeps me busy at home, and I even have some deadline knitting to do, but how could I say "no" to potholders?!? Plus, this year, we are required to crochet only 3 potholders, which made participation possible for me.
Usually it takes me a long time to select a potholder pattern, with lots of "auditions" and trial and error. This year, I simply didn't have time for that, especially since I didn't even start until two weeks ago and the potholders are due on April 1st. I'm so lucky to have come across a pattern that worked almost right away!

This is the Eight Pointed Flower pattern, and it's wonderful. Quick and easy to make, but with some great details.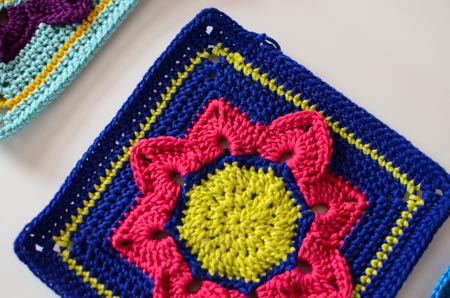 First, there is a bit of dimensionality to the pattern – only four out of the eight flower points are embedded in the potholder fabric. The other four float on top and are secured with just one stitch. Second, the eight points themselves are created by crocheting a very full flower, then joining the sides of the petals at the halfway point to make it lie flat. Very clever, which this knitter/crocheter loves.
I didn't need to modify this pattern at all, other than to add two more rounds to bring the potholder to the official allowable size – very nice when one is so short on time. For yarn, I used my potholder favorite, Tahki Cotton Classic, some from the stash, and some from the Windsor Button closing sale that I told you about last time.
Now I only need to crochet a solid back, join front and back together, and add a loop. I'll probably pick something simple from 200 Crochet Blocks for the back.
The toddler has exhibited a huge interest in knitting, crocheting, and yarn balls lately, and during this impossible winter I've even let him (and the cat) run around with yarn once in a while. It's a huge mess, but when you can't go outside, it kills time and that's a win. Here he is putting together a puzzle just a few days ago.
0
likes