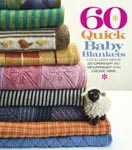 This one was a no brainer: I have all the books in the 60 Quick series
, so of course I happily agreed to review 60 Quick Baby Blankets, which is being released on April 2nd.
(My reviews of 60 Quick Baby Knits and 60 Quick Knits.)

Like the other books in this series, 60 Quick Baby Blankets uses Cascade yarns, specifically Cascade 220 Superwash and Cascade 128 Superwash. Both yarns are available in dozens of colors (hundreds, in the case of Cascade 220), in hundreds of online and brick-and-mortar yarn shop locations, all at an affordable price point. They are just winner yarns, that's all there's to it.
The patterns in this book are for knit baby blankets. There's just a bit of crochet here and there, mainly in the edgings. Because these are baby blankets, the sizes are in the traditional 30″ x 36″ range, some a bit bigger, some a bit smaller. Many of the blankets can be easily up- or down-sized.
To me, the most striking part of this collection is the range of patterns. There are simple patterns and complex ones; patterns using all one color, several colors, and many colors; smooth patterns and textured ones; classic patterns and whimsical ones; patterns knit all as one piece, and patterns composed of smaller pieces sewn together.
Let me highlight 3 of my favorites:
(click on an image to view larger)
The first blanket is called Zig and Zag by Holli Yeoh. It is knit using 8 colors of Cascade 220, and it's absolutely stunning. It instantly reminded me of this chevron quilt that my friend Maritza recently sewed. The description of how this blanket is constructed was also quite intriguing: "This blanket uses a modular technique called strip knitting. The blanket is constructed out of narrow strips, which are joined together as they are knit." Oh? That sounds interesting. I will not deny that the number of yarn ends that will need to be woven in scares me, but it's just so pretty.
The second blanket is called Monster Mash by Susan B. Anderson, and is knit using Cascade 128. The reason I like it is because it's intarsia, but not crazy intarsia. I've found that in order to create fun, whimsical motifs, you often end up needing to use intarsia. Sometimes the intarsia is crazy and approximately zero fun. But here, there are just three colors, and just a few bobbins. The faces, arms, legs, and outlines are added later. Plus the blanket is made out of individual blocks, so you are working on only one intarsia monster at a time, not trying to balance all the intarsia bobbins at once.
The third blanket is all one color and one piece – Lavender Lace by Karen Kendrick-Hands, using Cascade 220. It is beautifully textured, but the lace pattern is not entirely traditional, and the double seed stitch provides a nice frame.
All in all, another great collection from this series! Click in the extended entry to see some additional patterns (with a bit of commentary from yours truly).

(click on an image to view larger)
Interesting textures:
Reminiscent of sewn quilts:
Clever, fun intarsia that won't make you batty:
Intarsia that would likely make you batty 🙂
Classic and girly:
Clever and modern:
The mustache blanket is very straightforward intarsia. The sheep is made separately, then attached to a simple stockinette background – great for anyone with a knitting machine, or as a simple way to embellish a store-bought blanket or piece of fabric.
0
likes