The only project on which I've made decent progress is the Arshile sweater.
I've knit and seamed the body and sleeves, and now have to add the placket and hood. The pattern has its quirks. For example, the knitter is instructed to pick up stitches around the armscye and knit the sleeves down to the cuff. That's fine. But the instructions have you knit the sleeves flat. Say what?!? Also, the recommended sleeve lengths do not take into account that this is a drop-shoulder design. Anyway, I've been making a few adjustments here and there, but sticking to the pattern for the most part. The sweater is coming out quite nice, in my opinion.
The rest of my projects just make me sad.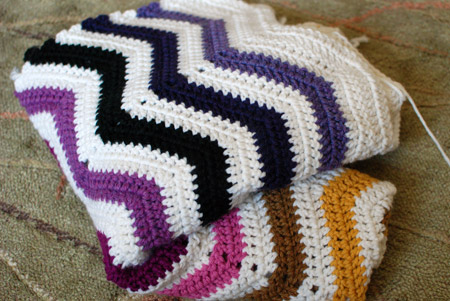 I have tried every conceiving edging for the crocheted chevron blanket: crab stitch, slip stitch, single crochet, half double crochet, double crochet, decorative stitches, more stitches, fewer stitches… ETA: and, yes, i-cord, too. It all looks quite crappy in my eyes. The edge of the blanket is very loose and unstable to start with, and adding more stitches doesn't fix that. I love this blanket so much, and it kills me that I can't figure out how to finish it. Can anyone think of a reason why I couldn't enclose the two long edges in some double bias tape, and hand stitch it in place? I'd leave the short edges as they are.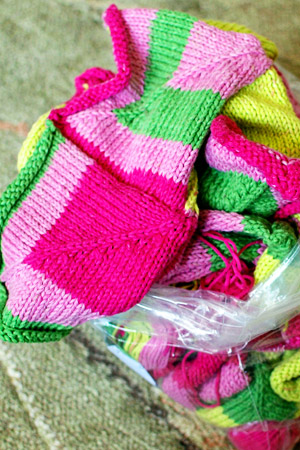 Honeymoon blanket, the third is still not assembled.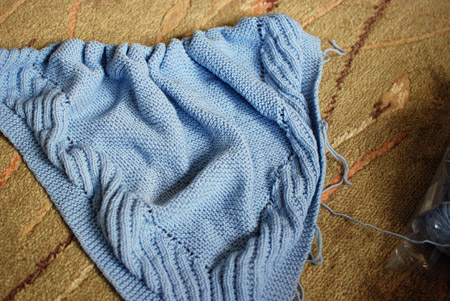 The Prairie Blanket I intended to knit in time for Gregory's birth has been in hibernation forever, and he is nearly 11 months old at this point. Sigh.
At least the little boy is a constant source of happiness, makes me forget all my knitting troubles ;). Here he is, displaying some massive bed head.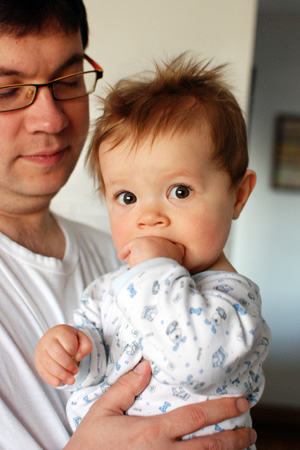 0
likes