Doesn't mean I haven't been knitting! And crocheting!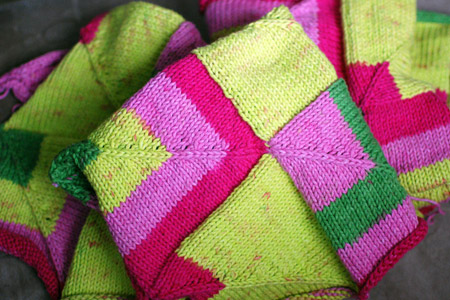 Honeymoon blanket, the third: I finished knitting the squares, and now need to sew them together and add the border. The colors are so bright, it really looks like it's glowing!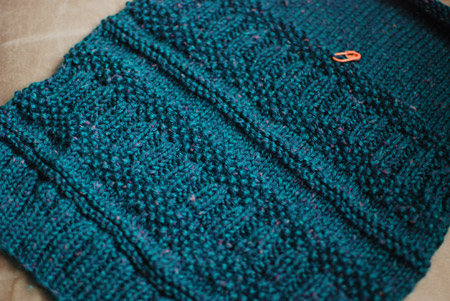 Arshile from Berroco's Booklet #303: I bookmarked this pattern to knit for my kid before I even gave birth, and bought the yarn for it about a year ago (Kraemer Yarns Tatamy Tweed Worsted). But I'm no fool: I'm knitting the 18-months size, because there's no way I'll be done before next fall :).
A crocheted chevron blanket using Berroco's Vintage Chunky. The inspirations for this are numerous, and I'll list them in another post. I love crocheting the super simple chevron stitch pattern (from 200 Ripple Stitch Patterns
). And I love this yarn! I remember many readers warning me against Berroco Vintage when I knit Gregory's Preppy Cardigan, but I have found it to be great! No pills, no bleeding… the cardigan looks as good as new, even though Gregory wears it (and dirties it) very often. Not to mention the speed with which the blanket grows when using a chunky yarn!
Speaking of growing, here's my little one – almost 9 months old!
1
like