Let me be Captain Obvious: it's been a while since I posted here. Taking care of a newborn is a very time-consuming task, as it ends up. On top of that, I've been presented with a great opportunity at work, but it requires me to prepare for and pass a licensing exam. Needless to say, those two commitments are top priorities right now, and knitting/sewing/crafting are not. I imagine future posts will be rather infrequent, matching my limited crafting time. This saddens me, but there's nothing I can do about it. How about a cute baby picture as a way of cheering up?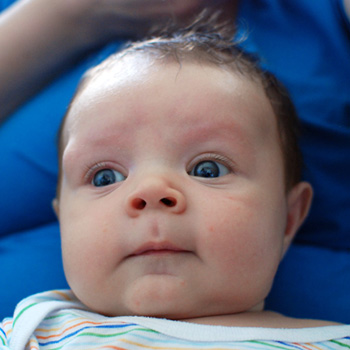 Baby Gregory, 2 months old
It won't take me long to update you on what I knit this summer, because I've only worked on a few small things. Mainly I've been knitting projects from 60 Quick Baby Knits (my review here).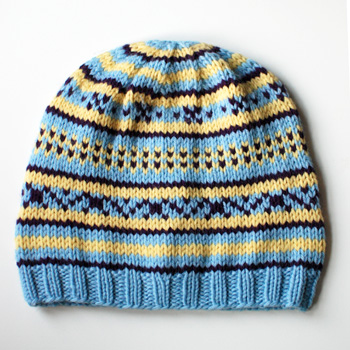 First, before Gregory was even born, I finished the Fair Isle Hat using some Cascade 220 (not superwash) that I had in the stash. I wasn't super pleased with the finished product, to be honest. The hat is sized for a 6-12 months old, according to the book. I knit the hat without modifications, and so the finished circumference of my hat matched the one listed in the book. However, the hat fits my giant 24″ noggin. Hmm. I'm setting it aside until a proper (non-baby) recipient comes along.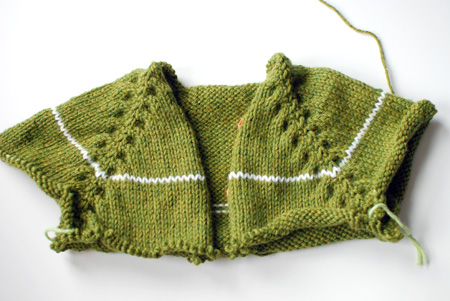 Next, I started the Preppy Cardigan using some Berroco Vintage. It's my first time using this yarn, and I love it. The color is fabulous, it feels so silky and smooth, and knits up into a lovely fabric. The price tag is very reasonable, and it's machine-washable. For this pattern, it was a great substitute because my gauge using Berroco Vintage was exactly the same as the specified Cascade 220 Superwash. However, once I finished the yoke of the cardigan, I realized something was off: it seemed that the neck opening was too small, and the yoke too deep. I got in touch with the editor, and indeed the pattern has errors in the yoke section. I have a draft of the revised version, and I will need to start from scratch to incorporate the corrections.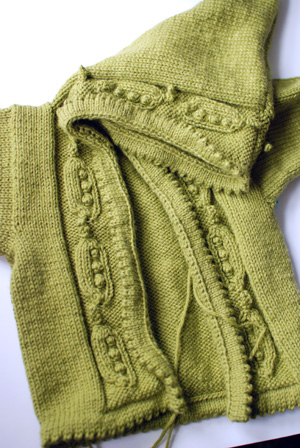 Nowadays I'm working on the Sweet Pea Cardigan also using Berroco Vintage, and I have only praise for this pattern! The construction is very clever, full of great shortcuts, and the instructions are crystal clear and error-free! I am nearly done with the knitting.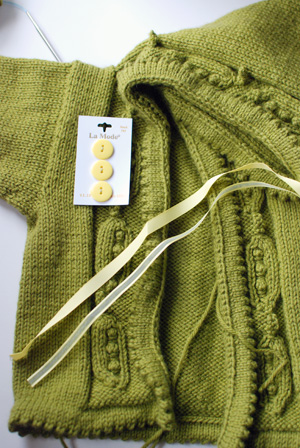 I picked up some yellow ribbons and buttons to complete the project. I haven't figured out yet how to add the ribbons, but I've been folding them this way and that, and have some ideas. Hopefully sewing on the ribbons won't hold me from finishing the cardigan!
0
likes