Thank you, everyone, for your sweet comments about Gregory's arrival. The last three weeks have been a blur, though one thing is clear: he is full of personality, and such a love. We are adjusting and learning to live with this little bundle of joy.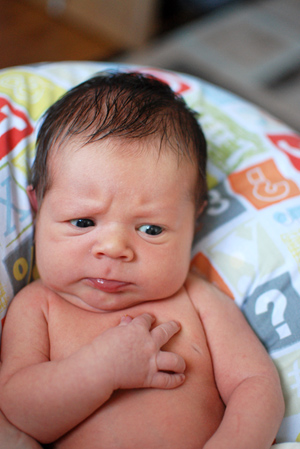 Skeptical, just like his mama.
I've been able to do a little bit of knitting, but before I show you my new projects, I have some pre-baby things to clear off my plate. For starters, remember the 2011 Potholder Swap (on Ravelry, on Flickr)? I crocheted the Pinwheel Rose potholders, and here are the potholders I got in exchange!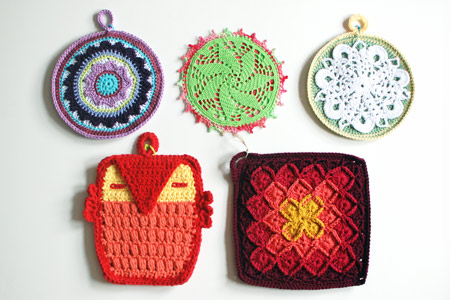 Top row: from Kelly, Shannan, and Maryse. Bottom row: from Amy, and Natasha from London, U.K.
These are absolutely wonderful! I'm not sure what's better: crocheting potholders for the swap, or receiving an always surprising collection of potholders in exchange. I love both! Huge thanks to the five ladies who crocheted these beauties for me!
Next up: some baby knits! I know it won't be a shocker that they are actually not for my baby – some things never change, I will be a process knitter forever :).
0
likes