Perhaps my own crafting for the little one is on the slow side, but I'm very fortunate to have some gifted friends who are making sure he will have handknit hats and handmade quilts regardless of his mama's inertia.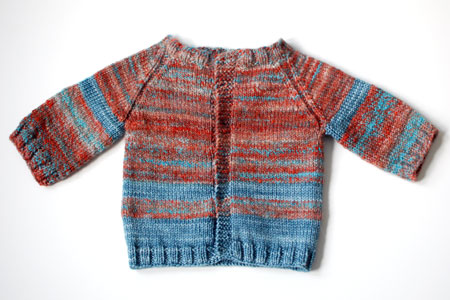 From Greeley, a top-down baby raglan, knit out of her own handspun and some Madelinetosh DK (on Ravelry). The handspun is organic merino and is incredibly soft, with a cloudlike halo. The sweater is closed together with snaps which is brilliant, and made me realize that I don't knit nearly enough things which have snaps (actually, I don't think I've knit any; this will be remedied shortly). Snaps are probably even easier than buttons or zippers – unlike buttonholes, there is no planning required, and in contrast to zippers, there is very little installation time. This sweater will be perfect for chilly summer evenings or early morning fall walks. I can't wait!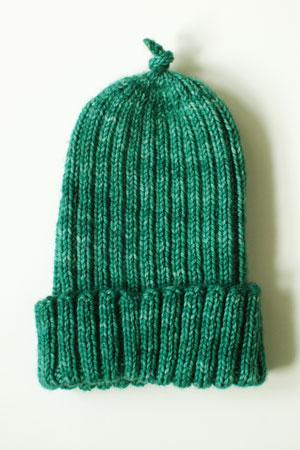 From Jessica, this adorable ribbed hat with a top knot! The all-over ribbing means that this hat will stay nicely on the head, and fit for a good, long time. The wool is very soft and squishy, too!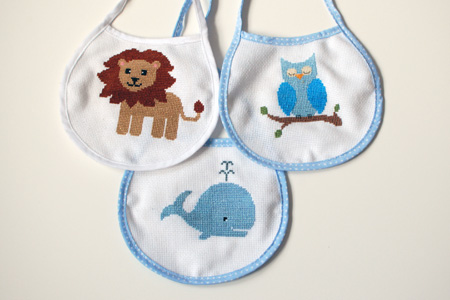 From Diana, these gorgeous hand-embroidered baby bibs! That's little tiny cross-stitch, if you can't see – amazing! The whale kills me with the cuteness. These are so delicate and intricate that I don't think I'll be able to bring myself to use them!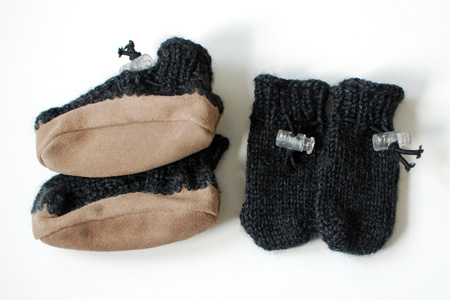 From my coworker Sarah, booties with leather soles and matching thumb-less mittens! Sarah threaded some elastic around the openings to make sure they stay on the babe's feet and hands. She (a mom of two) tells me that soft-soled shoes are great when babies are first learning to walk and need to flex with their little feet to stay upright. Seems like a long time away, but will probably be here before I know it!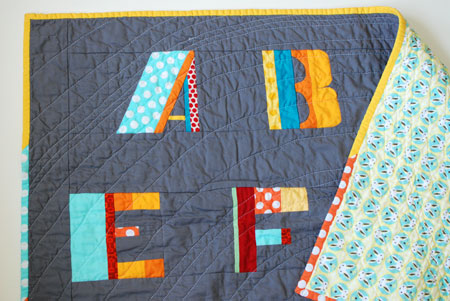 From Maritza, a spectacular alphabet quilt! I couldn't get a good picture of the whole thing, but please see Maritza's post here to see all the letters and details! The improv letters are so colorful, and the cool gray background showcases them beautifully. I especially like how the yellow and orange bits look against the gray. The quilt is backed with incredibly soft, organic flannel – a delightful bunny print! The quilting lines, circles radiating out from the center, are one of my favorite features. The great thing about this gift is that I can think of so many ways in which we can use it, for years and years!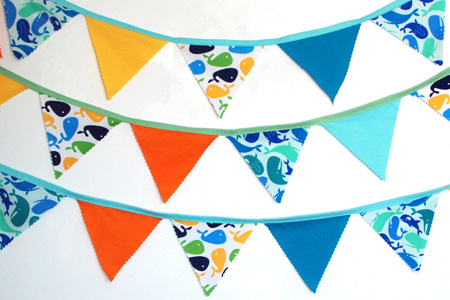 Maritza also sewed this colorful bunting for the baby's room. We haven't put it up yet, but will do so soon!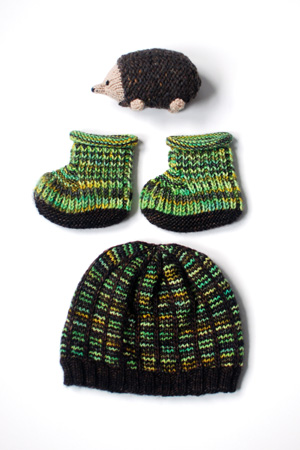 From Carolyn some booties, a slipped stitch hat, and a knitted toy hedgehog! You can see the project details on Ravelry. Both the hat and the booties have some very clever design elements which make them practical and comfortable. I also like how these projects use up little scraps of leftover sock yarn: I think everyone has a drawer or a bin or a Ziploc bag full of those! I wish the picture accurately conveyed the scale of these items, especially the baby hat – it is so small and cute! I can't wait to have a little model for all these things :).
Thank you, dear friends, for these spectacular gifts! Everything has been put away in appropriate drawers, and now I just count the days until he's here – about three or four weeks left at this point!
0
likes