Many moons ago (actually, it's been almost six years – can you believe it?) I shared with you my homemade solution for circular needle organization and storage. It worked pretty well for me for a long while, but as my needle collection grew and grew, the tangles became more and more annoying. I'm a fan of knitting blankets, as you know, so I have quite a few 60″ long circs. Those are the worst offenders – they don't quite fit into the holder, and they tangle like nobody's business.
It was time for a revamping, and an upgrade.
I poked around the net a little bit for "ready to wear" solutions, but none seemed to be exactly right for me. For example, I knit with a lot of small needles, so I could really use a place to store my US 1.5 needles, separate from my US 1 and US 2 needles. On the other hand, I barely have any use for needles larger than US 9.
At the end, I decided to take some of the ideas I saw on the web, but create my own solution.
I bought some clear Ziploc-style binder pockets on eBay (I would have bought them locally, but didn't find any in stores near me). I just searched zippered binder pockets
or zipper binder pockets
, and went from there. I got a total of 15 pockets for about $2 each.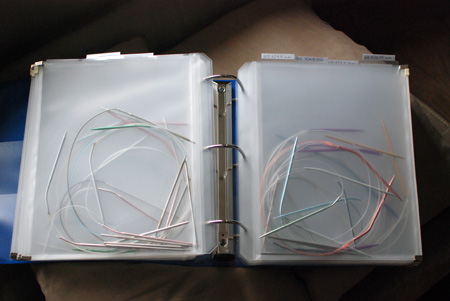 To these pockets I attached some Avery brand self-adhesive index tabs, 2″ wide. I labeled each tab exactly as I wanted, and as my needle collection dictated. I staggered the tab placement in such a way that it would be easy to flip through the binder to the right spot.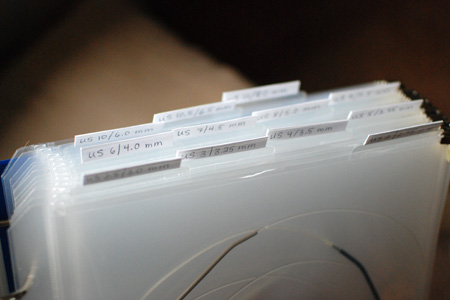 All the pockets got filed in a heavy-duty 4″ binder. I first thought that a 2″ binder would suffice, but that was absolutely laughable. I exchanged the 2″ binder for a 3″ one (it was passable), but eventually decided to go all the way and get a 4″ binder.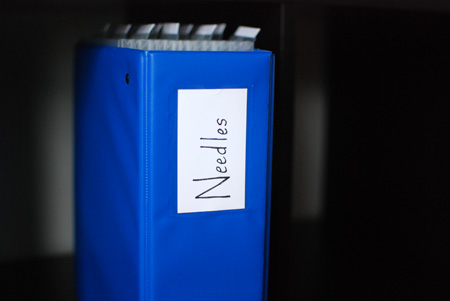 For now, I'm really enjoying the new system. I'm especially satisfied with the way I've been able to separate out my half-needle sizes, like US 1.5, US 2.5. Maybe in another six years I'll feel the need to upgrade again, who knows? 🙂
The new needle organizer is a part of a larger project to reorganize and rearrange my work space. It's a very slow-going process, but for now I've reorganized all my loose patterns into (even more) binders, and moved all my knitting and crafting books from their former Billy bookshelves to a new Expedit storage unit. The Expedit is much sturdier than the Billy, so I'm happy with that upgrade, too.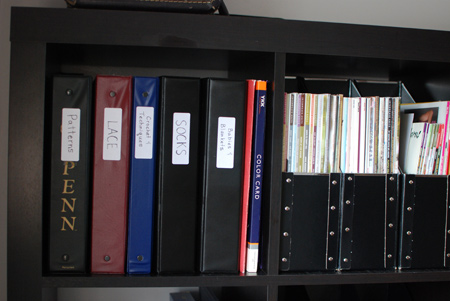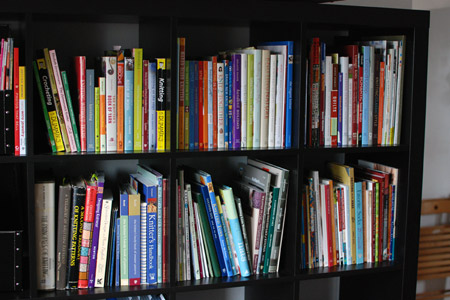 11
likes