With crocheting, it always takes me forever to get things exactly right. I know I've mentioned this before: I have a bit of experience with knitting, and a certain ease with it, and I can tweak and rework patterns without much trouble. In contrast, I'm still at that "need things spelled out" stage with crocheting. If something doesn't look right, or I need to make an item larger or smaller, I'm absolutely clueless!
So, even something as simple as a potholder can totally throw me for a loop. I can't even count the number of patterns I auditioned during the past few weeks for the 2011 Potholder Swap (on Ravelry, on Flickr). For the most part, they all came out too small for the 6-8″ requirement, and I was stumped about how to make them larger. (They typically come out smaller than expected because I'm using a size C/2.5 mm hook with a worsted weight yarn, for that extra denseness.)
Anyway, after much trial and error, I finally found a pattern that works! Yay!
I started with the Pinwheel Rose pattern from this collection.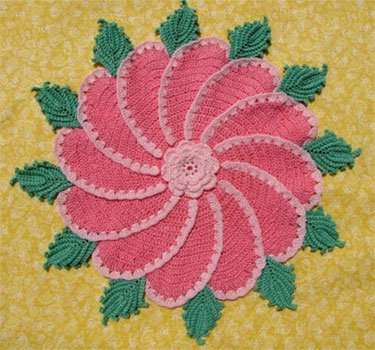 I had to modify the pattern a bunch – change the number of repeats, for starters, but also omit several rows to make the potholder smaller. But it seems to be working out alright!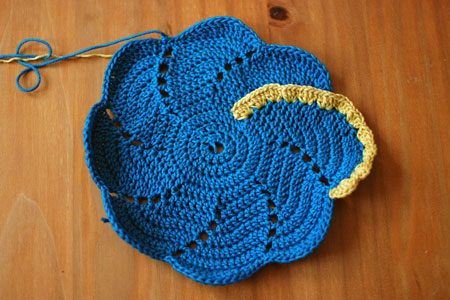 My current plan is to knit two identical "rose bases" which will be held together with the outer bits of the edging you see in the photo (the inner bits will be on one side of the potholder only). I will also nix the little leaves and add a hanging loop.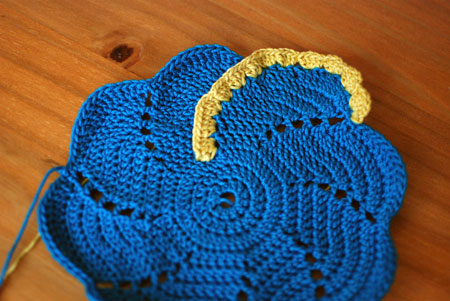 Seems doable, right?!? Onward!
6
likes